Top Five Home Improvement Projects For New Retirees
You've talked about it, planned for it, and saved for it. Finally, retirement is here! Whether you decide to stay in your current home or downsize to a smaller one, there are a few renovations that can significantly improve the appearance, safety and convenience of your space. In fact, a survey by Merrill Lynch found that people over age 55 account for nearly half of all spending on home renovations in the US. And for those over age 65, home improvement spending increased by 26 percent over the past decade. Here are the five most popular home improvement projects for retirees who are looking to improve their space.
1. Kitchen and Bathroom Upgrades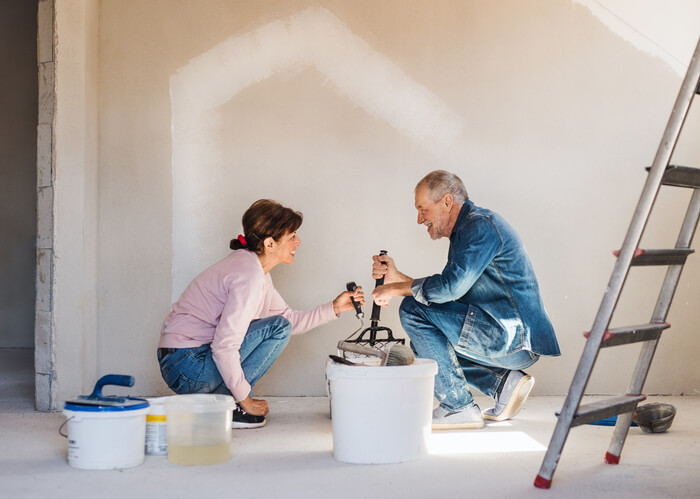 With more time spent at home, the kitchen seems to be the area where everyone gravitates. And, if you can't remember the last time you gave yours some TLC, consider a full kitchen renovation. After it's all said and done, you'll have the perfect space for entertaining the kids and grandkids year round. But, if you're not ready to change the entire layout of the kitchen, you can always salvage what you have while slowly incorporating new features. For example, stainless steel appliances, tile or wood floors, and new counter tops and cabinets can make a big difference. Both in terms of functionality and appearance.
Moreover, consider expanding or updating your master bathroom. You've worked hard and deserve to enjoy your downtime! And, what better way to do so than with a new soaking tub or glass-enclosed shower? Some additional bathroom improvements to think about include new cabinets and sinks, as well as upgraded lighting and mirrors.
2. Outdoor Entertainment Space
Next on the list of popular home improvement projects for new retirees is upgrading your outdoor space. Outdoor entertaining space adds a lot of value to your home. Not only in terms of resale, but also in enjoyment and leisure. If your home doesn't have one already, think about adding a deck or patio to your renovation list. It's a great space to entertain guests, prepare and enjoy meals, and take in the beautiful weather (while it lasts).
When it comes to material and design, wood decks offer a natural, traditional look and feel. Plus, it's also the cheaper option out of the gate. However, when you factor in annual maintenance, composite decking can be a better investment overall. As far as patio designs are concerned, patio pavers are a popular option. They give a look of elegance that sometimes isn't achievable with a concrete slab. Not to mention, they are versatile too. So, if you want to start out simple and add on later, you can always make walkways, bonfire pits, patios and more.
3. Technology Additions
Where would be without it? Technology just makes our lives easier. And, with that being said, why not upgrade your home with modern technology. Surely, it will work wonders in terms of convenience, connectivity, security, and health. For safety reasons, you might want to consider a security system or video doorbell. For convenience, automatic lights, smart thermostats, and robot vacuums are solid options. Also, smart phones and tablets make it easy to stay in touch with friends and loved ones.
4. Guest Bedroom Transformation
While you may not have kids living at home anymore, if you're a grandparent, you'll probably have more opportunities to host the grandkids once you are retired. Of course, it's always useful to have extra space when family and friends visit as well. So, if you have an existing room in the home that is unused, turn it into a comfortable guest bedroom. You can even go a step further and make it feel like a fancy hotel with a bathroom add-on.
5. Home Office Renovation
Admittedly, it may seem counterintuitive to add a home office before retirement. However, you might want an organized place to store paperwork and look over the bills, and work part-time from home. It's also a quiet, comfortable area for reading and enjoying your morning cup of coffee. And, with the kids growing up and leaving the nest this is a great, low-cost conversion for that empty bedroom. Of course, the cost for a home office renovation will vary depending on the size of the room and your preferences. Remodeling Magazine estimates you will spend approximately $187 per square foot. Overall, this is a good investment with a solid ROI (return on investment) when it comes time to resell.
7th State Builders Can Help
Regardless of when or where we decide to retire, we all want to feel happy and secure in our home. So, if you are retiring today or in 10 years, it's never too early to start thinking about home renovations. 7th State Builders can help you achieve the home of your dreams. We will help you budget and estimate the costs of all of these home projects and more. We can also help you design a layout for your kitchen or bathroom. Contact us today to learn more.