3 Innovative Smart Home Features You Need
In this day and age, modern technology has not only shaped the world we live in but our individual homes, too. And, needless to say, innovations in technology make our lives easier and faster as the years go on. So, it only makes sense to implement some of those advancements into the design and functionality of your living space. After all, "the devil is in the details", as they say. Here are 3 smart home features that are well worth the time and expense.
1. Lighting: LED/Hidden Guide Lights

Location: Bathroom, Kitchen, Living Room, Hallways
Ensure you never come home to a dark house with the help of LED smart lights. LED lightning is perfect for use in illuminating work areas, bedtime reading, as well as hidden lighting fixtures. In fact, these lights can be easily hidden and placed throughout the home in the room of your choice. For instance, across the width of a headboard on a bed, beneath a handrail in a stairwell, or underneath a kitchen cabinet/bathroom vanity. Thus, adding an effective guiding light and attractive feature to any area of the home.
In particular, Philips Hue smart light bulbs feature a range of products, from flood lights and light strips to fixtures and outdoor lighting options. Plus, Philips works with Amazon, Google, and Apple for voice-activated assistance. So, all you have to do is install your lights, download the Hue mobile app, and pair the lights. Then, you can control up to 50 lights within the app.
2. Energy Usage: Smart Thermostat
Location: Any Room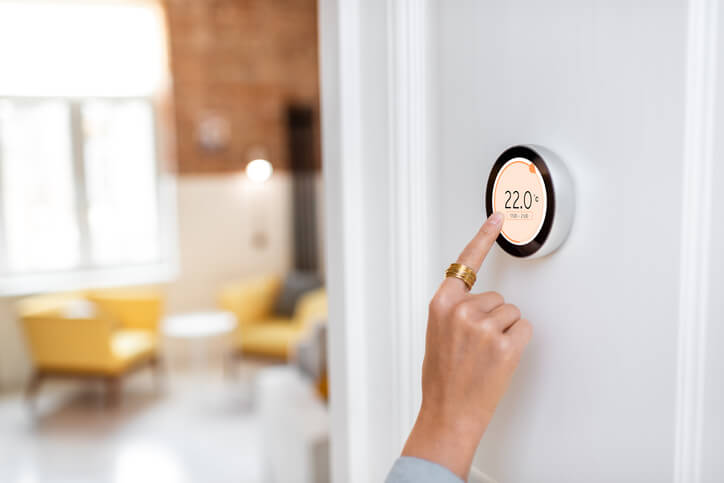 If you're looking to smarten up your home and save money on energy expenses, the thermostat is a great place to start. The most basic models are affordable and wifi-based, which allows you to connect the device to your home network. From there, you can control your home's heating and air conditioning system from your phone using an app. Also, raise and lower the temperature while you're away from home, create a seven-day schedule, and turn the system on and off in a pinch. Some models can even learn and monitor your daily routine to create a custom temperature schedule that automatically adjusts.
3. Functionality: USB Electrical Wall Outlets
Location: Bedrooms, Kitchen, Home Office
With all of those gadgets in your home (and we know there are a lot), charging capability likely ranks high on the list of needs. And, finding an unoccupied outlet or charging adapter to power up those phones and tablets can be a real challenge. Luckily, there are tech-friendly outlet cover plates with built-in USB chargers. Not to mention, it's as easy to install as a regular cover plate. And, you can add USB ports without sacrificing your standard three-prong outlets. So, whether you charge your devices in the kitchen, home office, or the bedroom, you won't have to fight for an open plug ever again. Or, fumble through a drawer of adapters and cables late at night.
Now, as far as smart options are concerned, consider a smart plug. To set it up, simply connect the plug to a wall outlet in your home, plug in a light or electronic device, and control the settings on your phone. For example, the Kasa Smart Plug Mini is just $15 and allows you to switch lights and electronics on and off, check your charging status, and set automatic schedules from the Kasa app.
Remodeling a Room? Call 7th State Builders Today
Customization is key! After all, what good is a high-tech, kitchen or bathroom if there's not enough space or it doesn't fit your style? If you're considering a new kitchen or bathroom renovation, contact the folks at 7th State Builders. We specialize in crafting kitchens and bathrooms that bring you inspiration, beauty, and comfort. Contact us today for a free, no-obligation estimate.