Hardscapes That Will Make You Ready for Warmer Weather
Warmer weather is on its way and the first signs of spring are starting to show. Needless to say, now's the perfect time to upgrade your backyard. And, what better way to enhance your space than with hardscapes? Having the right patio design or stone walkway will add that little extra spark to your outdoor lifestyle. As a licensed home remodeling and building service in Maryland, 7th State Builders are the experts in helping you build your 'dream yard'.
In light of current events, we believe it's more important now than ever to create living spaces you enjoy. So, continue on as we share ideas for hardscapes that will get you excited for warmer days and nights. Every little bit of positivity counts right now. We're in this together.
Hardscape or Softscape: What's the Difference?
The two major elements of landscaping are hardscape and softscape. Hardscapes are man-made features such as stone walkways, wooden fences, and brick patios. On the other hand, softscapes are the living features, such as trees, grass, flower beds, shrubs, and plants. Hardscape elements are often used to lead you from one area of your backyard to another.
Inspiring Hardscapes to Get You Ready for Summer
According to The Freedonia Group, the demand for hardscape products in the U.S. is expected to reach a total of $3.5 billion by 2021. In other words, more homeowners are choosing to invest in hardscapes on their property than ever before. Of course, there are many ways to use hardscapes to enhance your backyard or outdoor space. Below are a few of our favorite ideas to inspire you as warmer Maryland months approach:
1. Stone Walkways

Stone walkways are the ideal choice for creating pathways to and from areas in your backyard. For example, 7th State can build a stone walkway around your pond, from your patio to your garden, or from your deck to your garden. Not to mention, stone walkways are charming and a great option for creating a rustic and relaxed feel in your backyard.
2. Stone Retaining Walls
Create more garden space with stone retaining walls, and grow all the fruits and vegetables you can imagine this summer. Primarily, stone retaining walls can convert a slope to a flat yard space. So, look to the folks at 7th State Builders to easily install any size wall to increase your number of gardens.
3. Flagstone Patios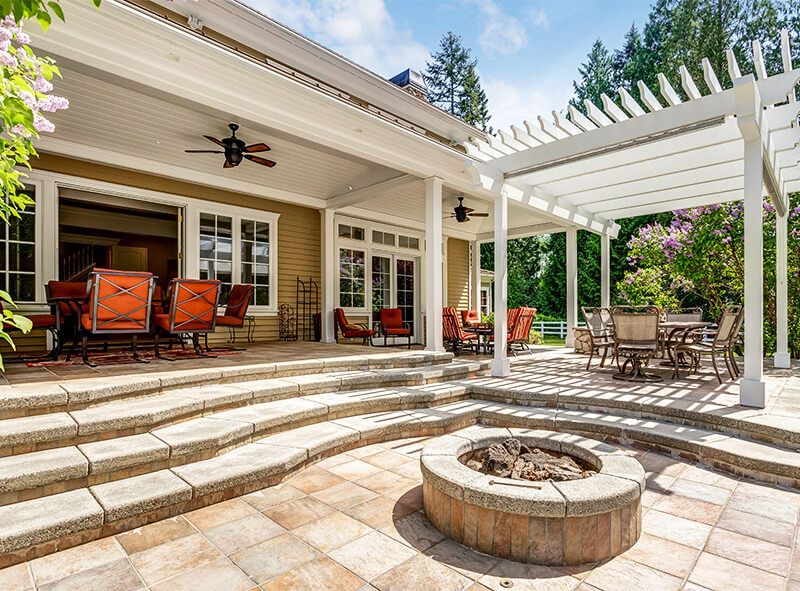 Think of flagstone patios as an outdoor floor. In fact, designing outdoor rooms is a top trend to watch out for in the landscaping industry.
There are many stone options when it comes to creating flagstone patios, from smooth flagstone to rough natural stone. At 7th State Builders, we offer stone advice as well as build out flagstone patios for your backyard.
4. Wooden Fences
Keep your backyard space private with a traditional wooden fence. Overall, fences are a great place to begin if you're just starting your hardscapes renovation.
5. Wooden Decks and Patios
Decks and patios are an essential component of your outdoor living space. Above all, they are a gathering spot for the family to spend quality time together. Did you know that Wooden decks are 7th States' specialty?
Enjoy Your New Hardscape Under the Maryland Sun
Warmer weather is something that all of us can look forward to. And, investing in the right hardscape is key to building and enhancing the look of your outdoor living space.
At 7th State Builders, we take everything into consideration from maintenance, budgets, longevity, and the overall look of your hardscape ideas and plans. We can also help you design the best hardscapes to optimize your outdoor living this year. Inspired to build the hardscapes of your dreams? Contact us for a free estimate and let's create something great together.