Replacement Sunroom and New Patio
Quite often, Maryland homeowners will call us with not just one, but multiple projects. That was the case for this replacement sunroom and new patio. For this house, it only made sense to update both the existing second-story sunroom and expand the patio portion below the deck. As you can see in the before pictures below, the old sunroom was outdated. It had screens, instead of windows, an old screen styled door, and a weathered staircase. Learn more below about how we updated and upgraded the living space. Check out more before and after images on our Facebook album.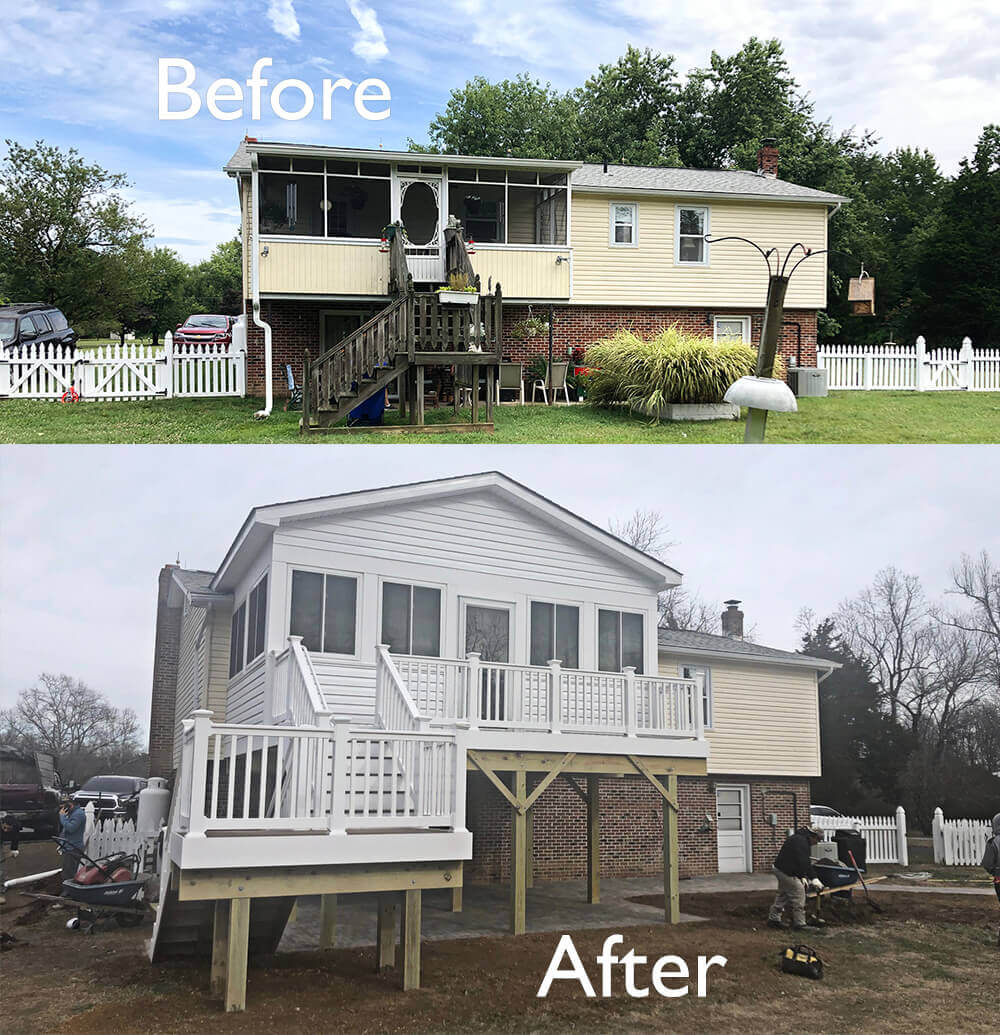 The Sunroom
In Maryland, it is great to have an indoor/outdoor space. Sunrooms, often called Florida rooms, help achieve the ability to enjoy the outdoors while staying safe from adverse weather. In the winter, that means rain (and lots of it) and in the summer, it means mosquitos. Having a sunroom helps bring in bright light and adds living space to your home.
For these homeowners, they loved their sunroom, it was just getting outdated. As so, a replacement sunroom was in order. They figured, if they were going to replace it, might as well make additional changes too. The area was expanded to accommodate a 12 x 20 sunroom with a 4 x 20 deck. The sunroom was fitted with large sliding windows. The deck was made from composite material to allow for easy maintenance. The sunroom also had Lifeproof vinyl flooring inside, cathedral ceilings, and a large ceiling fan. Custom french doors were also installed leading into the house.
The Patio
While there was an existing under deck space, it was small. The patio stretched across the length of the house and didn't reach out to the steps coming down from the sunroom. It also started to become uneven, collecting water. While functional, it left a lot to be desired.
That is why the homeowners went with an extended paver patio. We also created an extension to the stairs and walkways to the garage. This allows them more entertainment space, and the ability to move about without walking on wet, soggy grass.
Hire 7th State Builders Today
We could keep talking about this project. Needless to say, it looked stunning when we completed it if we do say so ourselves. The homeowners were happy and are now enjoying their new indoor/outdoor living space. If you are looking to replace or add on space to your home, contact us today. Our services include the majority of remodeling projects, inside and out. Contact us today, and we can come by for a no-obligation free consultation.