Custom Master Bathroom Remodel
We love the saying, "Wash away your troubles with some bubbles." There is just something to be said about having an oasis in your home where you can relax and unwind. For us, the master bath is the ultimate place to do just that. However, for these Maryland homeowners, their master bath was anything but. Feeling outdated, dark, and not an optimal layout, they wanted a custom master bathroom remodel. And the results were stunning. Learn more about this transformation below.
The Before Bathroom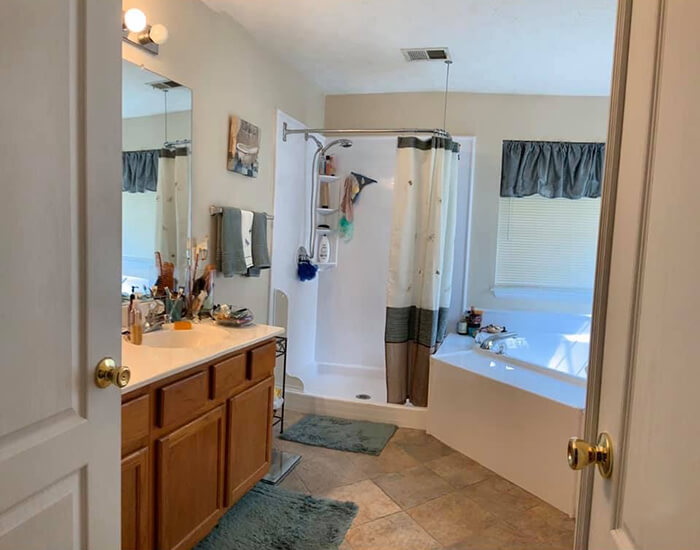 Overall, the size of the master bathroom was great. However, there were some layout issues. For one, the corner shower had a curtain. Even in older bathrooms, this was unusual. Typically we see the glass and not a two-sided opening. This made the shower quite small. Then you had the tub, which took up a great deal of space.
The older countertop, wooden cabinets, and outdated lighting made this feel less than luxurious. So, we worked with the homeowners to come up with a custom solution. First, they knew they wanted this to feel like a spa retreat. Secondly, the general locations of everything worked, but they wanted the overall layout reworked. They were in luck. 7th State Builders knew exactly how to give them what they wanted.
The After Remodel
We ended up taking everything out and putting the vanity back where it was. However, instead of making the shower smaller in the corner, we expanded it. Having the shower butt up against the vanity gave it a longer length. We were able to install a custom bench in the shower. That also meant moving the tub. The homeowners decided to go with an elegant standalone soaker tub. What is more relaxing than that? For this we made the tub sit parallel to the shower. This helped elongate the bathroom. We installed the flooring wood-like tile to also help with this illusion.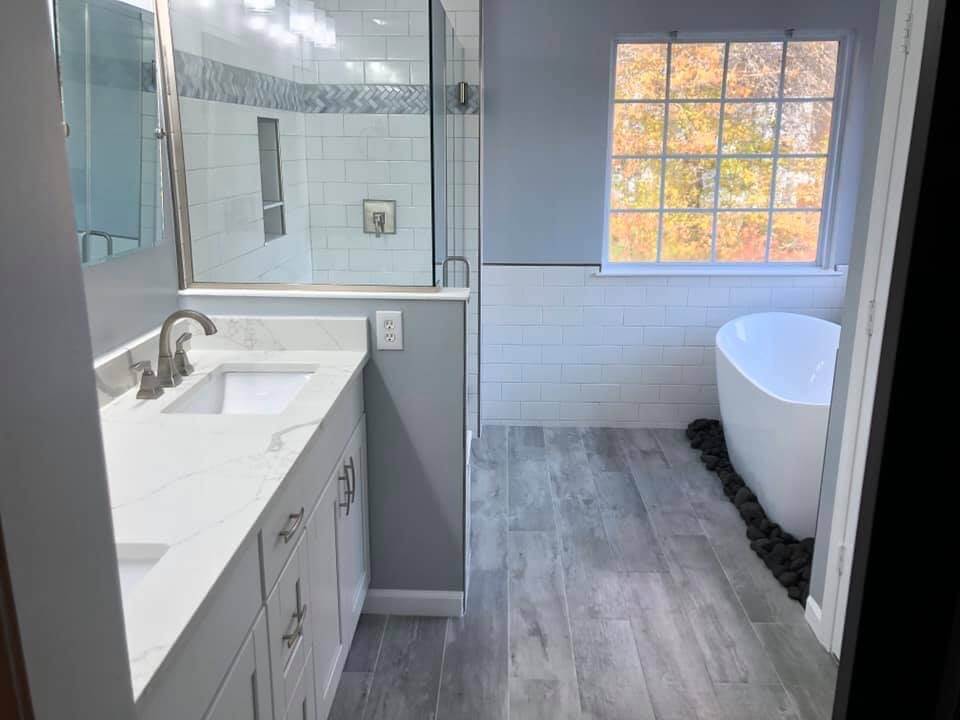 For this custom master bathroom remodel, it wasn't just about the layout. To achieve the spa feel, materials were everything. Review the gallery for more information on what materials were used for this bathroom remodel. Click on any of the photos below to enlarge the picture.
After Photo Gallery
Get Your Own Custom Master Bathroom Remodel
The final results of this master bathroom are exactly what the homeowners wanted. They can now sit back and relax in their new oasis. If you are looking to remodel your master bathroom, contact us today. Our team of professionals will help you every step of the way. We don't just install the materials. 7th State Builders helps design, and pick out quality materials. Want to see more of our work? Check out our blog for more recent projects or check us out on Facebook!