New Front Porch and Stairway in North Beach, Maryland
Many times when we start a new project, it amazes us what previous contractors consider quality work. For example, this homeowner had trouble with their existing front porch and side stairway. The previous contract used indoor tile and concrete for both. This is a huge safety hazard. So, when it came to us building a new front porch and stairway, we wanted it to be not only safe but add value to their home. Check out the results below.
Why Was it a Safety Hazard?
Using indoor tile for outdoor porches is a particular no-go in Maryland. Because we have frost and cold winters, this can cause the tiles to damage over time. Also, they can be especially slippery after rainstorms and in winter months.
Therefore, it was not surprising to us that this homeowner wanted both demoed and all the materials hauled away. We were happy to help.
Aside from the obvious safety hazards of the materials, it also was not very pretty. At 7th State Builders, we believe form and function can work together. After all, you don't have to choose between having a safe new front porch or a beautiful one. Both are possible.
New Front Porch / Side Stairwell Materials
After the demo, we replaced both areas with composite boards and vinyl railings. These materials were chosen for their durability and clean lines. It was important to the homeowner that the materials would be low maintenance and give a stunning curb appeal.
We used Fiberon composite boards along with Shoreline vinyl railings. Also, we added vinyl lattice with an access hatch. The grey composite boards with the white vinyl gave it a classic and fresh look.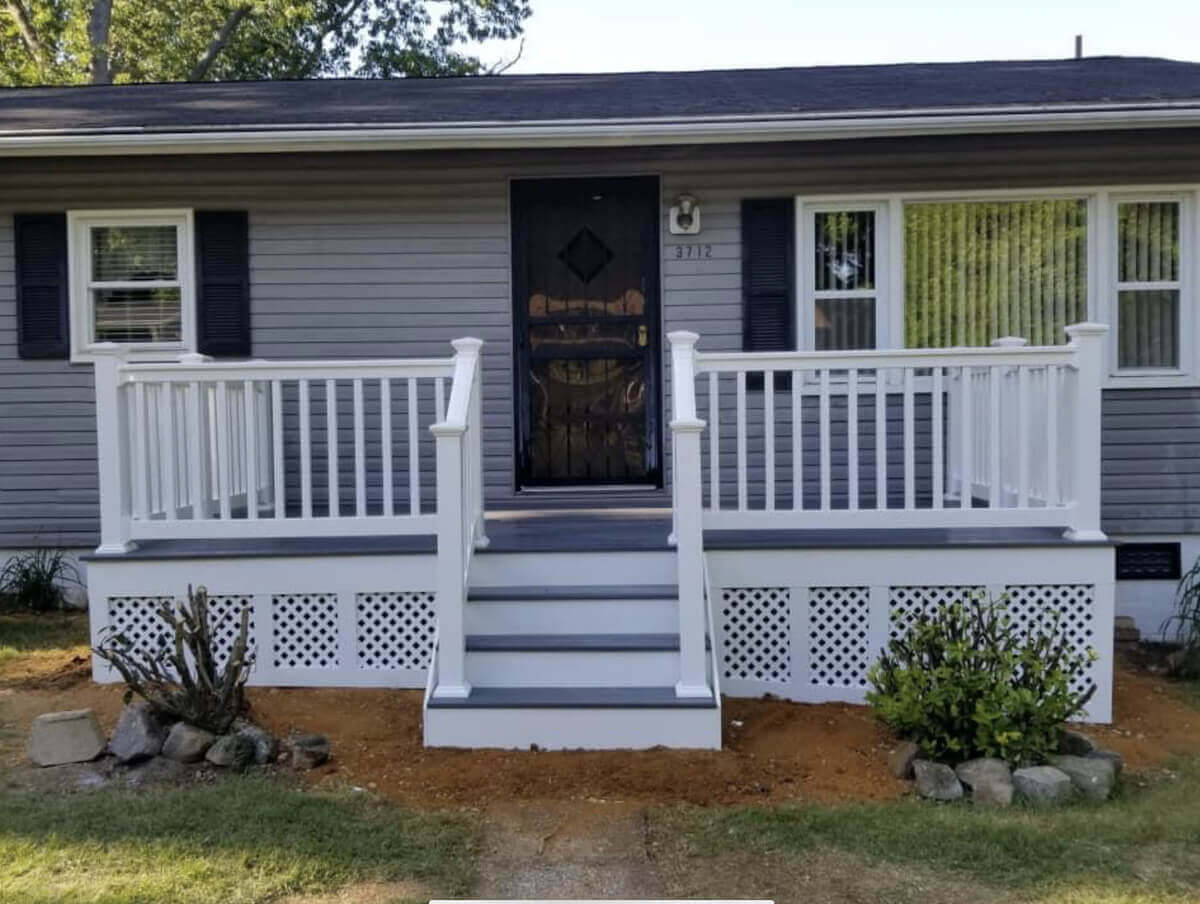 If you like the look, give us a call! We help build new, replace old, or modify existing structures. 7th State Builders specializes in all home renovations. It's our mission to provide quality work that will last. So, give us a call today to get a free in-home estimate. Make sure to also check out a similar before and after front porch renovation on our blog.