New Composite Deck and Screened-in Porch in Waldorf, MD
When it comes to your home renovation, why not get the best of both worlds? Well, for this Waldorf, Maryland homeowner, we made their dream a reality with the addition of a new composite deck and screened-in room. The main purpose for this design was to provide multiple, versatile entertainment spaces. Ultimately, the second-story outdoor deck and first-floor screened porch are conducive to the ever-changing Maryland weather. So, with this in mind, the homeowners were excited to have the freedom to host gatherings and entertain company all year long. Check out the results below.
Second-Story Composite Deck Addition
Using Fiberon composite deck material, 7th State constructed an eye-catching composite deck in the backyard of the home. Fiberon's Symmetry series features exotic wood tones and grains that closely resemble tropical hardwoods. And, although Fiberon is not a natural wood, it's a beautiful, high-quality alternative that mimics the look and feel of real hardwood. It's also eco-friendly, less expensive to install and maintain, and requires significantly less upkeep.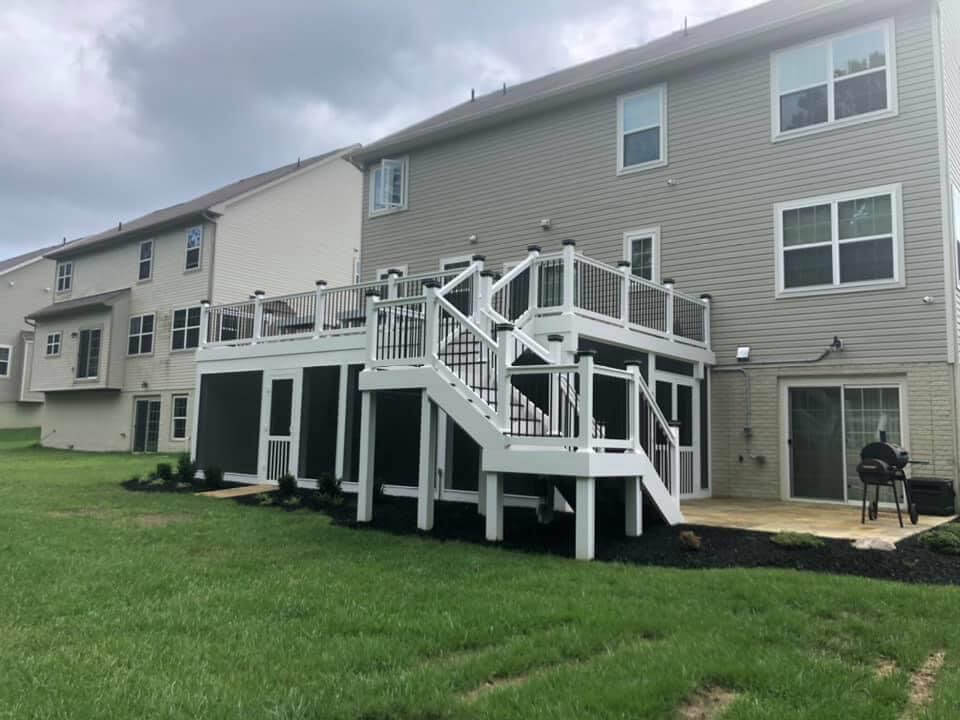 Moreover, to help maximize the view of the backyard, we chose Shoreline vinyl material for the railings. Specifically, we selected black round aluminum railing balusters, as it creates a sleek style with tremendous longevity. To finish off the deck, we built matching Fiberon deck benches, stairs, and landings, and attached black solar caps.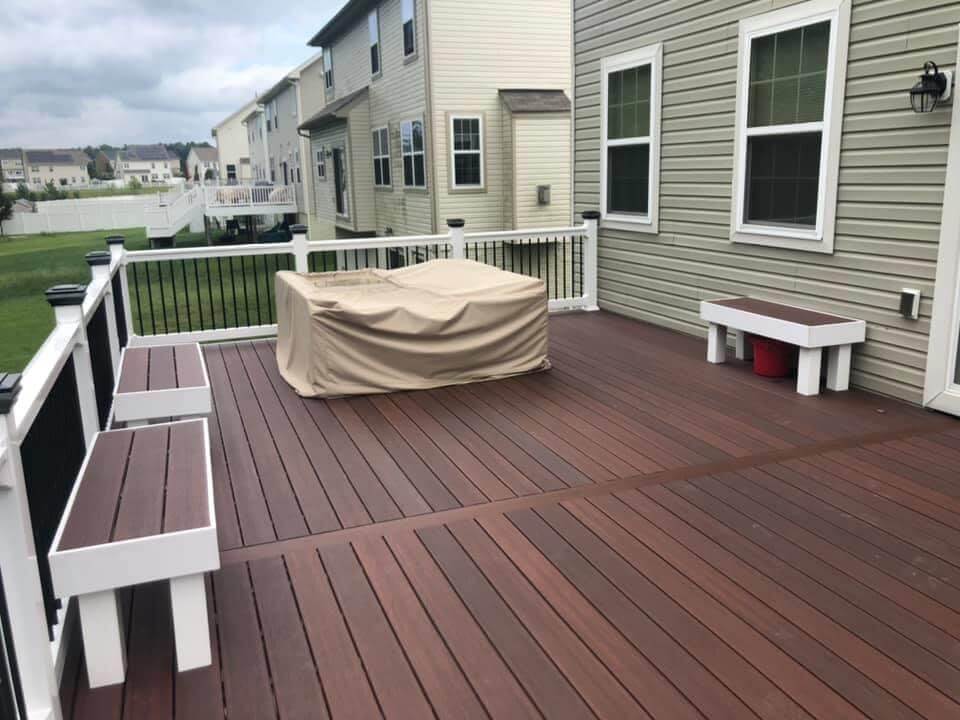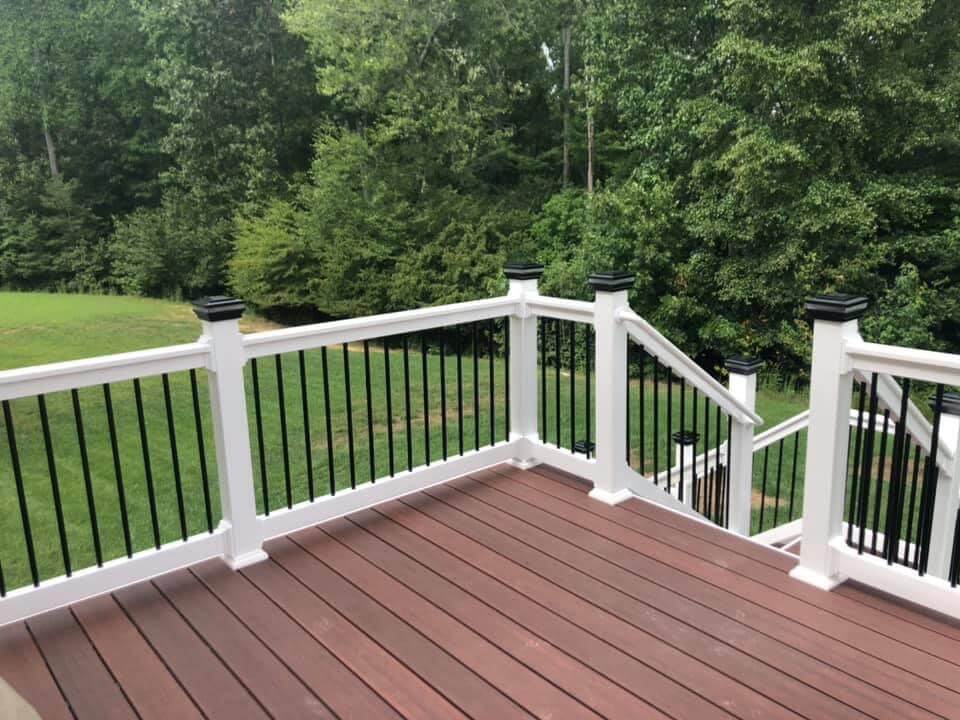 At 7th State Builders, we frequently use Shoreline in our projects because of their superior quality. Even more, the Shoreline railings offer an affordable and classic look that's suitable for almost any style home. Not to mention, they are a locally-owned business located on Maryland's Eastern Shore.
First-Story Screened-in Room
The new screened room features a single door in the front and a double door on the side for maximum entrance and exit space. We also used a high-quality durable mesh screen to insure durability and proper visibility.
Inside the porch, we used natural flagstone deck flooring from India, along with a vinyl ceiling that included fixed lightning, a ceiling fan, and flat screen mounted TV. We also built a storage area next to the screened room. In addition, the deck also has a waterproofing system installed to provide a dry environment. Of course, one of the most common issues that we hear about Maryland living is the mosquitoes! Therefore, having a screened-in porch provides a comfortable outdoor environment without the presence of pesky bugs.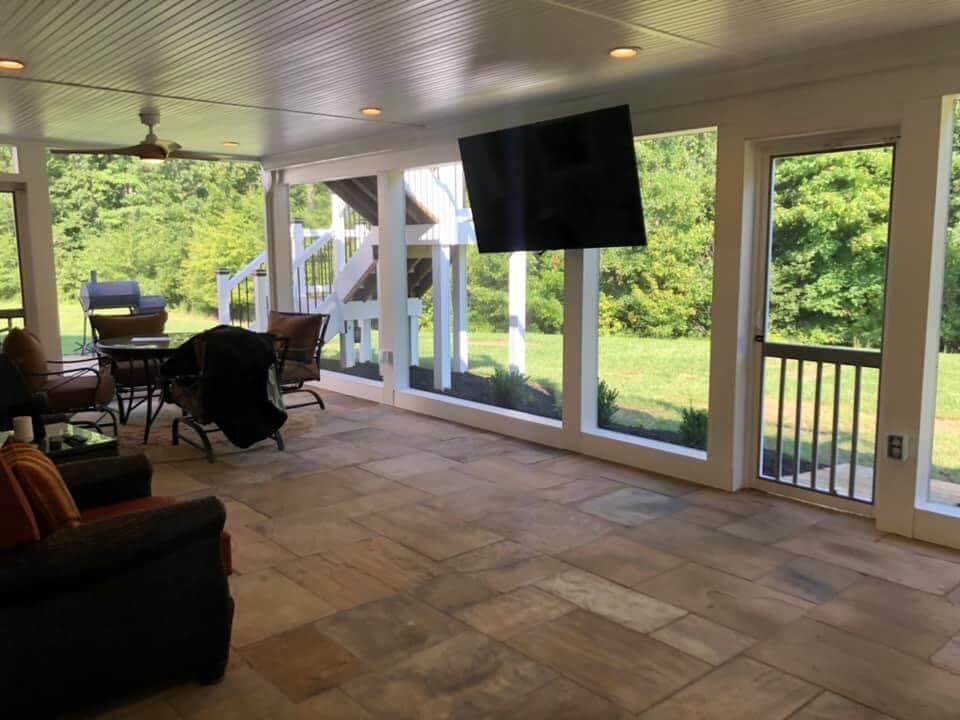 Call on 7th State Builders
Interested in a new deck addition or remodeling project? At 7th State Builders, our customers always come first and the results speak for themselves. But, don't just take our word for it. Check out our blog for more recent projects in Maryland and see for yourself. Not sure where to begin? Contact us by filling out our online form.