New Patio in Waldorf, Maryland
It's no surprise that we are seeing an uptick in home improvements. With everything going on with COVID-19, we are seeing that people are spending more time at home. Accordingly, instead of spending money on summer vacations, people are investing in an outdoor oasis. Needless to say, this project was no different. The homeowner wanted to create a space that her whole family could enjoy. So, in the end, we came up with the idea for a new patio in the backyard of this Waldorf home.
The Backyard Before
As you can see from the images, the backyard was shallow. It immediately butted up again trees, so the lawn area limited the size of what we could create. In addition, the homeowner wanted something that would last a long time. As a result, we decided on a paver patio as the best option.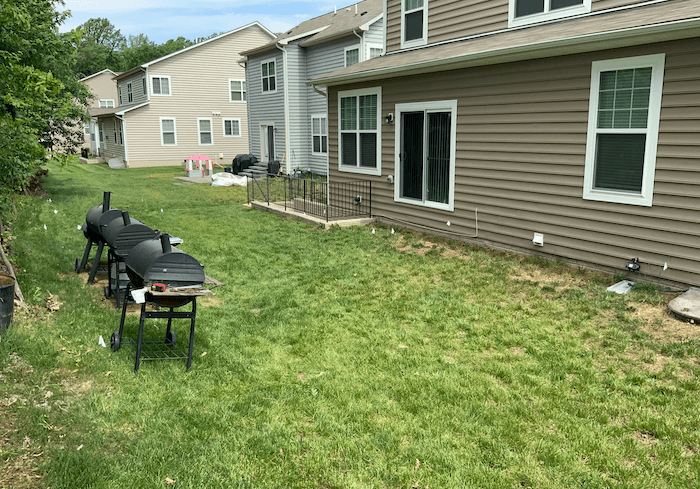 The reason we choose to do a patio is because of the levelness of the backyard. It's a perfect entertaining space for any home. Not to mention, it's also versatile. You can put a hot tub on it or have a family dinner. They are also very customizable. You can choose from a variety of looks. However, we particularly favor back patios like this because you can phase in landscaping and other elements later on. With this in mind, let's see how this new patio turned out!
The Backyard After
The patio itself was approximately 600 square feet. Specifically, we used a Rustico Travertine stone with a golden-brown border. The patio was accompanied by matching knee walls and columns, including match steps that have lights. Additionally, we added a custom walkway and grill area. And, the new patio was finished with river rock around the perimeter. This was done as the homeowner wants to install a future flower garden there.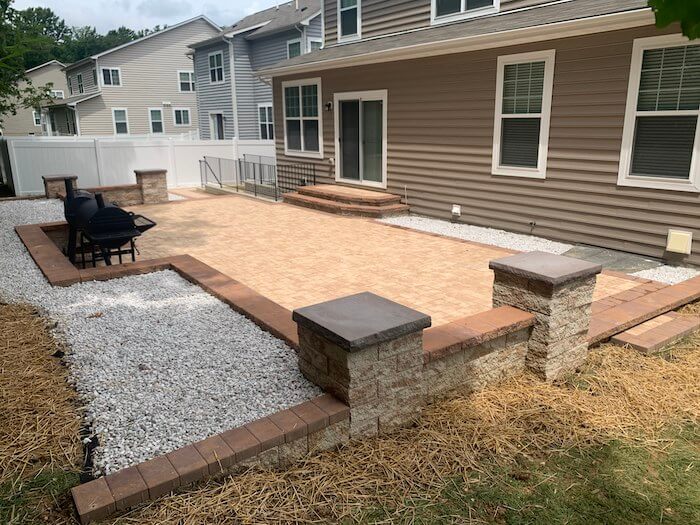 The homeowners were very happy with the results. But, don't just take it from us. Here is what they had to say:
"I absolutely love my patio and could not be more pleased with this company. I will hire them again for my next project!!!" – Tasha S., Google
All in all, if you are looking for a way to update your outdoor space, give us a call today. 7th State Builders works with homeowners to make their houses exactly how they want them. From bathroom remodels to adding a deck, we can help. So, contact us today for a free in-home estimate. Also, make sure to check out our blog for more recent projects.