Fall Inspiration: How to Design a Custom Fire Pit for Your Backyard
As fall stretches over Maryland, we turn our minds to all things cozy. There are many opportunities to enjoy the landscaping around your property, especially from the vantage point of your backyard patio. One of the best ways you can celebrate an autumnal evening is with the warmth and flickering light of a fire pit. There are so many reasons to incorporate a custom fire pit into your backyard design. But how do you start the process?
Before You Fire Away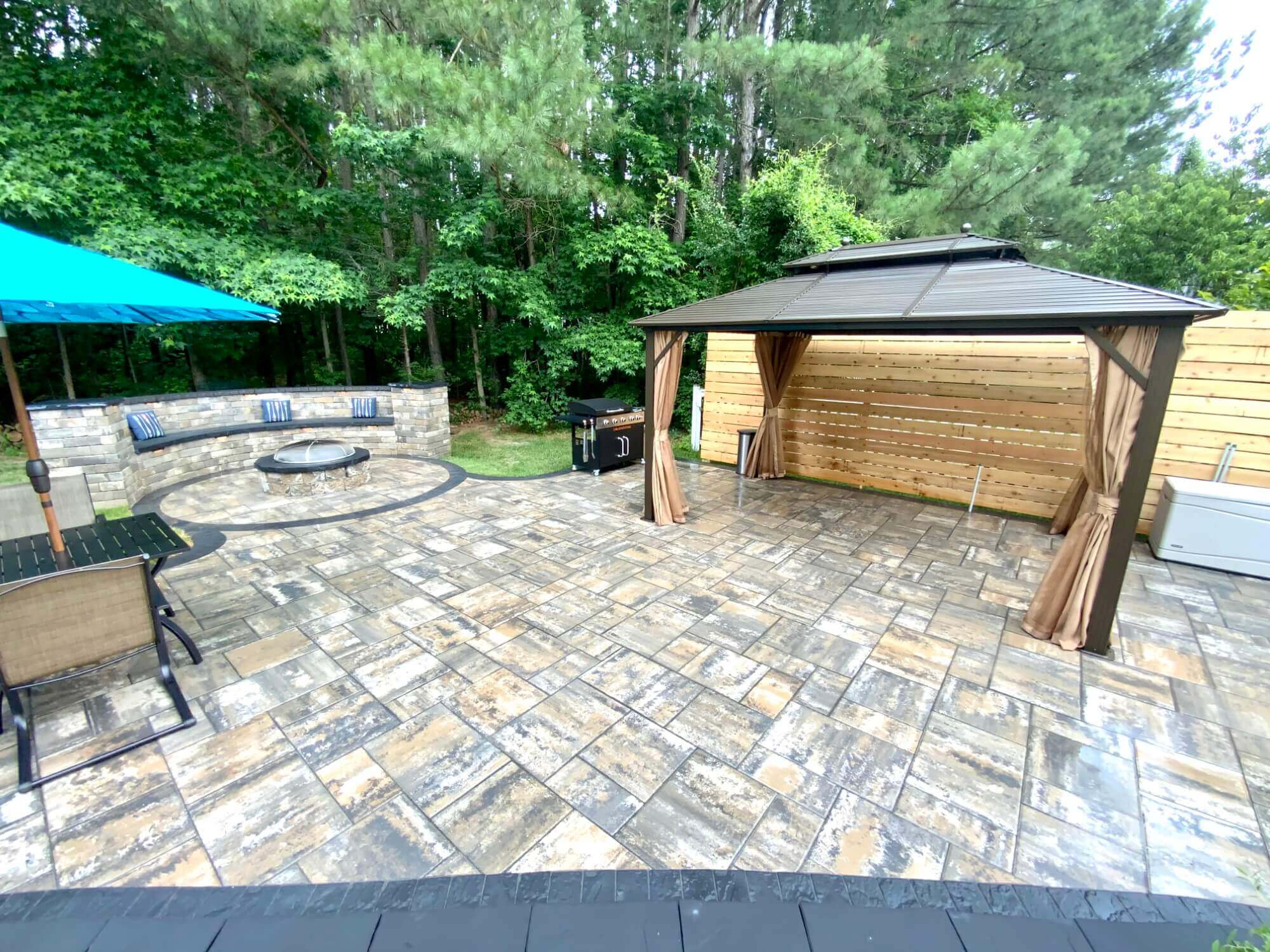 It's wise to figure a few important things out before you start designing your custom fire pit. What design, seating arrangement, and built-in features will best enhance the entire atmosphere of your outdoor space?
Most people go with wood-burning fire pits, as nothing beats the smell and crackle of a natural fire. Where you choose to put your custom fire pit and how you design it depend entirely on you and your needs.
Location, Location, Location
Any home can incorporate a custom fire pit into its landscaping, but placement is extremely important for aesthetics and safety.
First of all, make sure the fire pit isn't too close to the house or near overhanging branches, fences, or other flammable structures. It should also situate on a level surface.
Secondly, make sure you have enough room for furniture and other accessories (if you want or if possible). If you have a small, square patio and limited space, consider adding a circular stone or concrete fire pit in any open corner. You can even enjoy built-in seating with stone benches adorned with cozy cushions.
Is your space so small that you have to choose between a fire pit and a patio? Are you worried the patio will be way too cramped with a pit? Don't worry — you have other options!
Design your custom fire pit for the side yard and turn an otherwise underutilized space into a secret, cozy hideaway. Just make sure the pit is at least ten feet away from your house.
If you have a large patio or backyard with ample space, you may be able to accommodate an in-ground fire pit using concrete fire bricks or pavers. Make sure that the contractor you choose is familiar with ventilation techniques and how to consult your city's ordinances and local municipalities about permits.
Design Details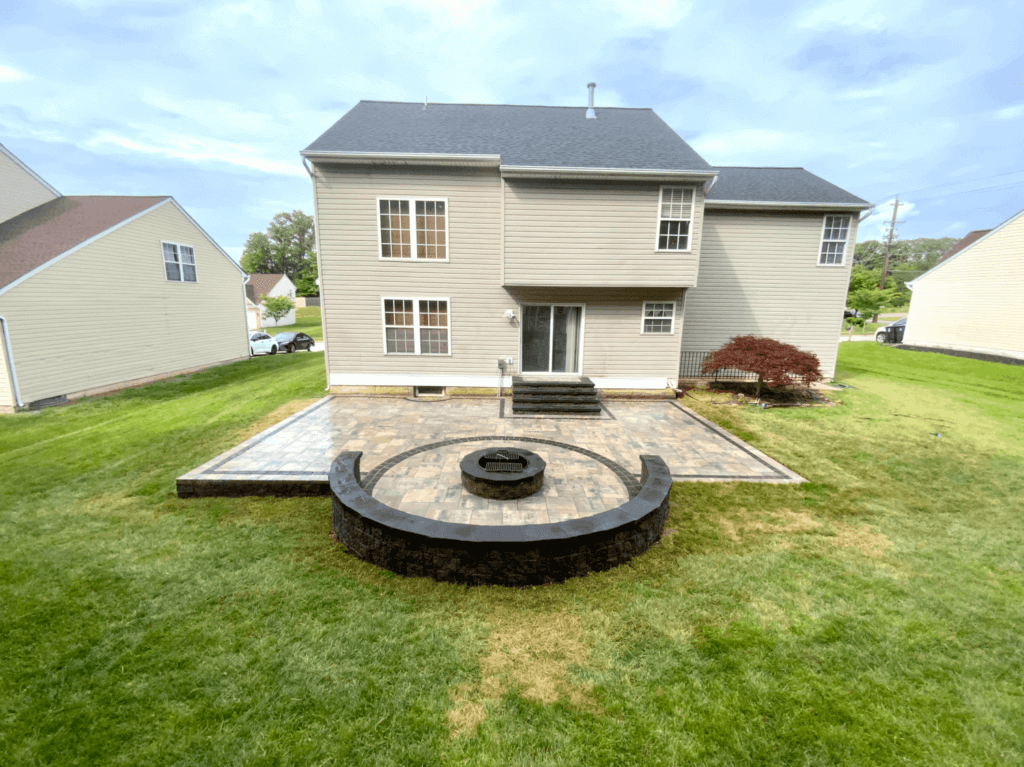 Fire pits come in all shapes and sizes. What you get should depend on how you plan to use your pit.
Regular, In-Ground, or Sunken?
You can choose between a regular fire pit or a completely in-ground design if you have the space and yard capacity. One isn't better than the other, and it really all depends on the relationship you want to have with your custom fire pit.
If you don't want a company excavating your yard, you may work best with the regular pit that only requires about six inches of digging. These have a smaller flame (as do the others) that's easier to contain than fire in above-ground fire pits or appliances. This may be a benefit for those looking to value safety in their outdoor design. They also create a beautiful effect where it looks as if the fire is bursting from the ground.
Some prefer the in-ground custom fire pit that makes the fire even lower than in the regular pit. Sunken designs also have a cool, private look. They work very well in cold weather and offer you and your guests a great place to talk and eat, although they'll require more disruption to your current landscape in order to create the recess. Many find it's worth it and makes their fire pit area feel more comfortable and protected.
What About the Firepit Shape?
You may want to choose a custom fire pit shape based on your patio or backyard space, or you may simply prefer one shape over another. Either way, there are plenty of options. The most common? Square and round fire pits.
The square fire pit lends to a more contemporary, structured look. This shape is suitable for small square areas or against (but not too close to) a modern-era, asymmetrical home and looks great with a long seating wall.
Thanks to the angles and straight lines, you'll have an easy time arranging seating. That being said, the square design is best for intimate lounging. If you're planning to host large gatherings or several guests, you may want to consider around pit instead.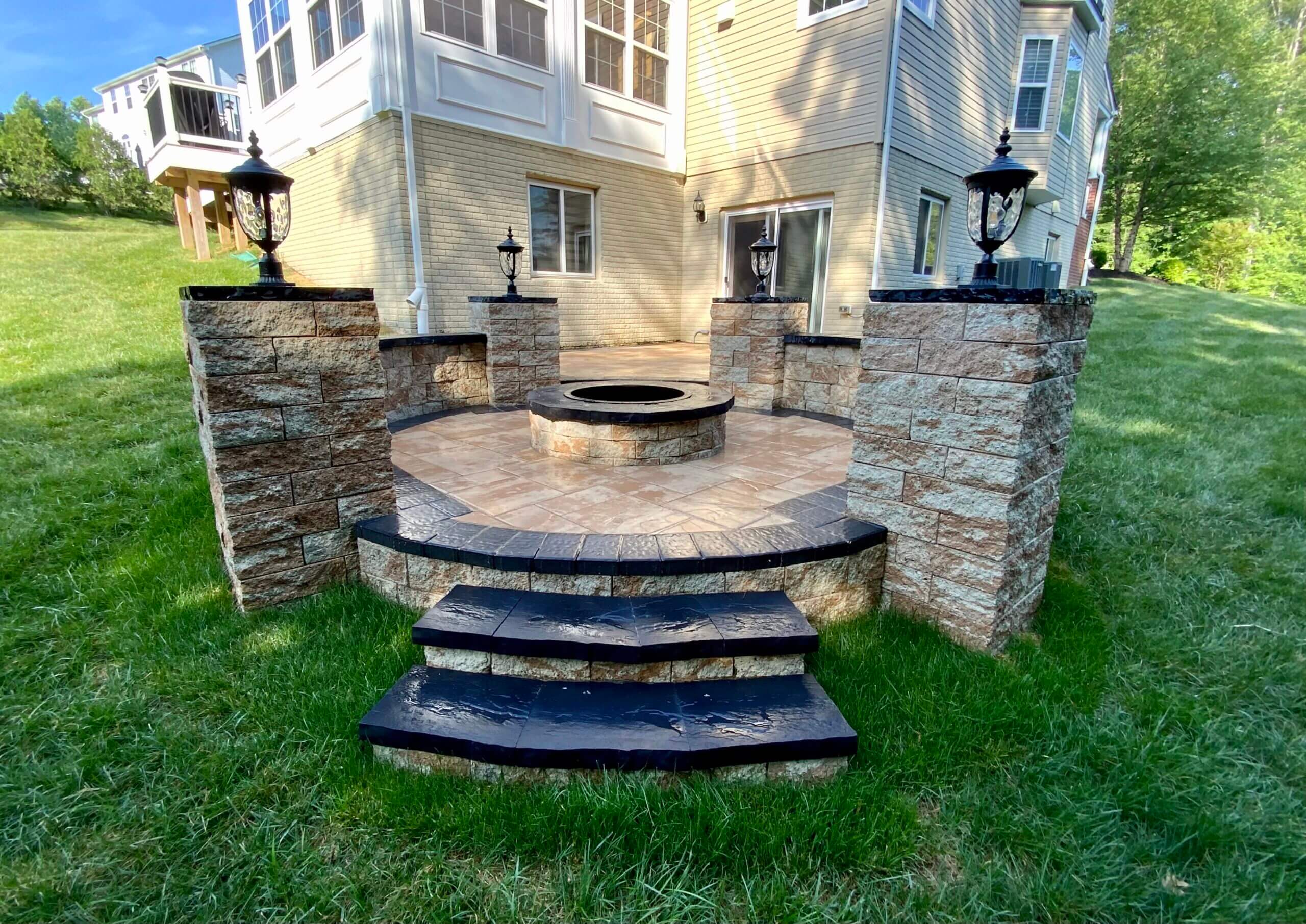 The round fire pit is open and inviting, making it a great shape for built-in circular seating (a built-in bench or knee wall) or plenty of standing room when you're hosting the extended family. And don't worry about great aunts and uncles getting cold at the edge of the conversation. Round fire pits distribute heat evenly.
While round and square fire pits are most common, you can customize your pit in just about any shape if you find the right builders. That includes rectangles, hexagons, and pits that are set stylishly in retaining walls.
Accessories to Enjoy the Space
You can enhance your custom fire pit with built-in benches, portable benches, or knee walls to provide comfortable seating for you and your guests. Your contractor will put at least seven feet between your seating and the edge of the pit.
Built-in seating and separation walls can be more challenging to position, of course. That's why it's important to find a specialist who can determine the right position for your built-in bench should you choose that design. Make sure you consider the look and ambiance you're aiming for, too. For example, a rounded stone bench will bring a rustic, classic look to your backyard space and encourage comfort and intimacy.
Some people prefer to install a custom fire pit with no seating arrangement or set-up. We consider these standalone pits. This design opens the space up quite a bit and is potentially more versatile than the other options. Standalone pits give off the good old campfire vibe, too, so they're perfect for standing conversations during casual gatherings. Guests can always pull up a seat.
Working with 7th State Builders
We've talked before about working fire pits into your patio. It's a fun topic for us because, for the past 20 years, we've worked in home improvement across Maryland. We treat your home like it's our own. That means if you want any kind of renovation, that's what we want, too.
A fire pit will enhance your outdoor space. It also makes hosting outside a pleasure, which is exactly what we all need right now. So to get started on your custom fire pit, contact 7th State Builders today. We'll set your dream designs in stone.