Bold New Paver Patio in Brandywine, Maryland
This fall has been busy. You will notice many of our recent projects throughout this summer and fall have focused on paver patios. That's for a good reason. Patios are a great way to extend the entertainment space of your home to the outdoors. And after being quarantined, a new paver patio is just what everyone wants to get together with friends and family.
With the holidays upon us and some very typical cold Maryland weather, will we see this slowdown? Probably not. Especially when it's fire pit season! Not only that but many decks and patios got a good look at during this pandemic. Homeowners started to notice their age and value in replacing their outdoor space with something that would last a bit longer. And that is exactly what happened to this new paver patio project.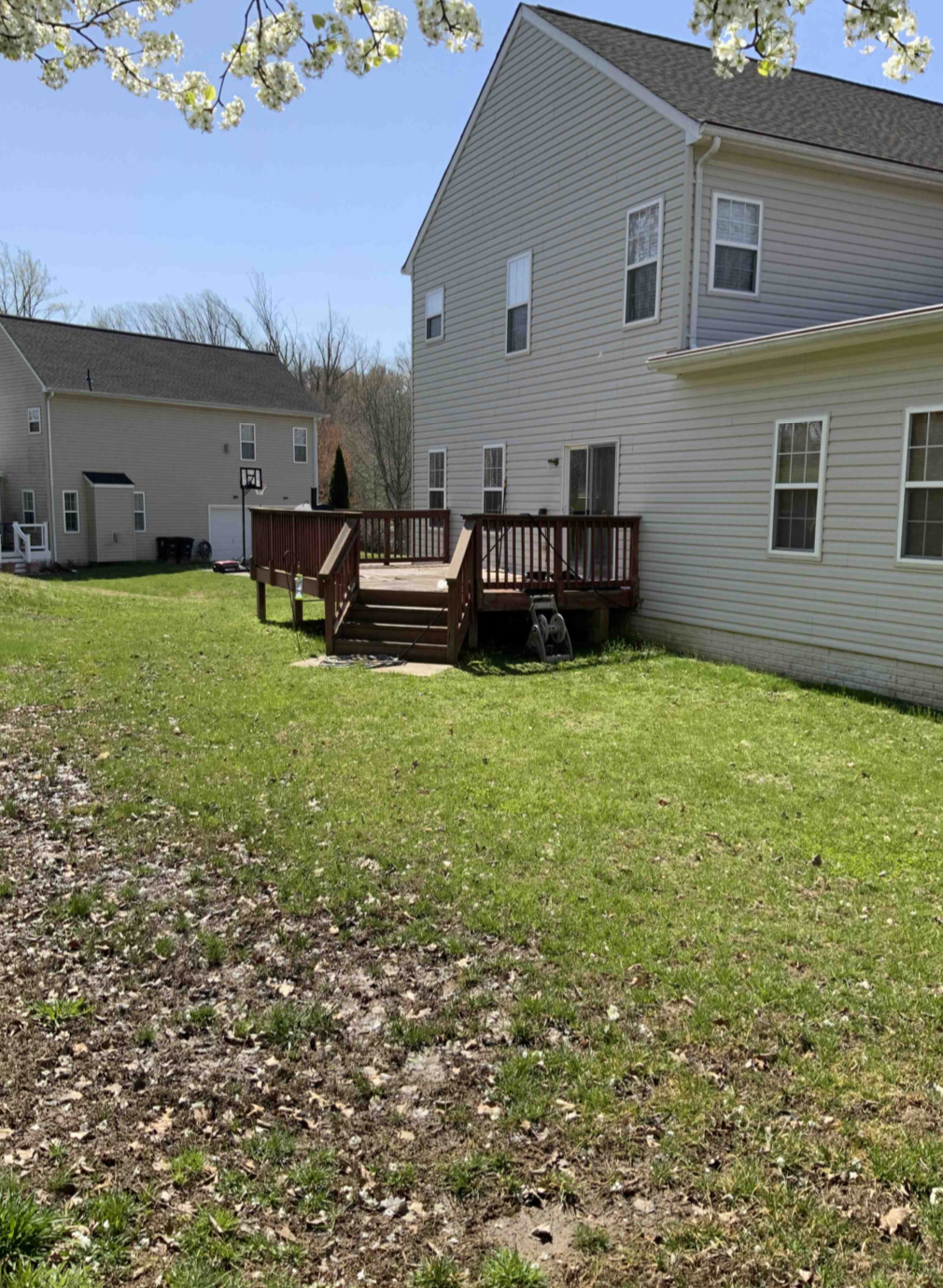 Replacing An Old Deck
Like many homeowners, this one inherited the deck that came with the house when they bought it. It was a small, low to the ground deck. It wasn't bad, but it wasn't good either. As you can see from the pictures, it's a pretty typical builders deck.
It didn't really allow for many people or had versatility. Meaning once you had a grill on it, there wasn't much room for seating or dining. So, they wanted a new paver patio instead. But not just a typical paver patio, though. These homeowners wanted a new paver patio that was bold and unique.
New Paver Patio Design
Not only did they want something that stood out in design and color, but they also wanted to use up more space. The existing deck didn't really play on the space they had to entertain. We could remedy that with different areas. That's what we love about paver patios vs. decks. You can get creative without using a ton more material.
Using their backyard space, creating more entertainment area, and giving it something bold was a challenge we gladly accepted. The design we finalized with the homeowners was to create separate but connected areas. These broke down to the grill area, fire pit, and pergola. This included matching paver step walkways that connected these three spaces.
What We Love About This New Paver Patio
This is another excellent example of tearing down an old deck that doesn't compliment the house and replacing it with something better. In this case, a paver patio that takes advantage of the size and shape of the backyard. Click on the photos below to see larger images of the final results. Also, make sure to check out our portfolio page for even more after photos of this project.
Since the homeowner wanted something more creative than a traditional and safe style, they chose a vibrant red fire Ireland board and unique edges. The primary pavers are a Stoneridge XL granite city blend with a border of Rustico in the same color. We also installed three Fiberon composite steps with white vinyl rails and black balusters. As you can see, it turned out great!
If you are looking for a unique and bold new paver patio in Southern Maryland, give us a call. 7th State Builders prides ourselves on excellent customer services and the superior quality of our work. Contact us today for a free, no-obligation estimate.