Complete Basement Remodel in Edgewater, Maryland
For this recent project, we started with an unfinished basement. It had one room with drywalled walls, but the rest had open ceilings to the floor joists and concrete floors. It was being used mainly for storage. However, this was a large basement and had so much potential to be a usable living space. That is exactly what this homeowner had in mind too. So for this complete basement remodel, we separated the area into sections.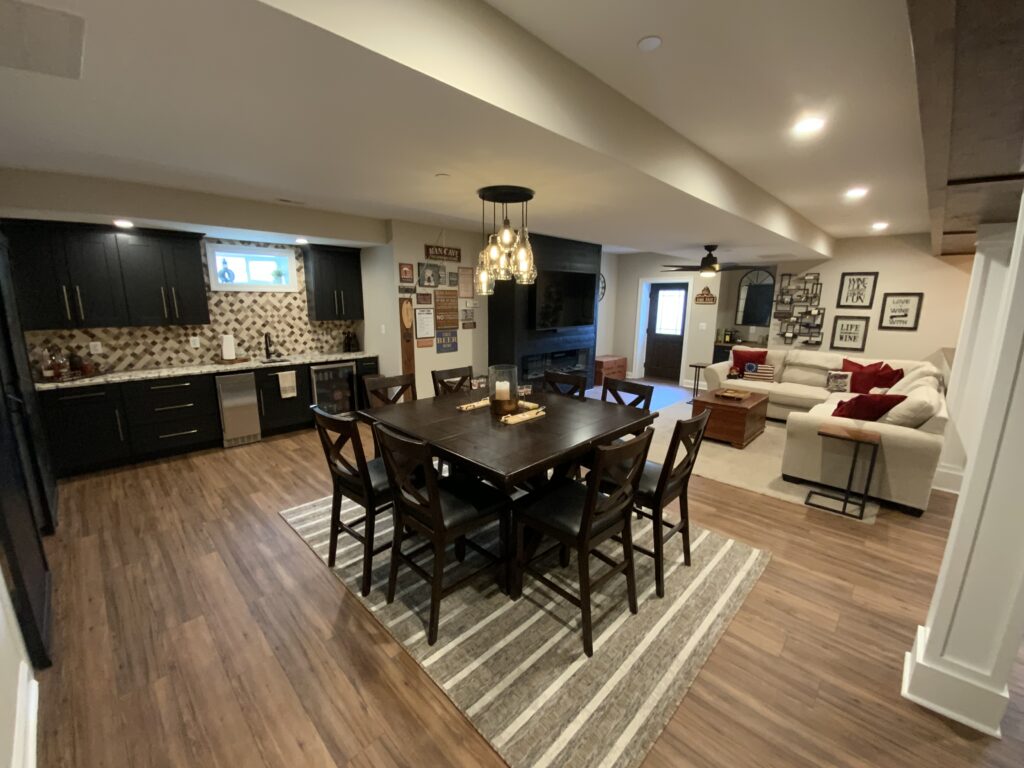 When doing large remodeling projects, it is smart to have them broken down into sections. This doesn't just help with scope but also budgeting. For this basement remodel, we had the following sections:
Stairway/Under Stairs
Bourbon Room
Family Room
Wet Bar / Dining Area
Hallway
Playroom
Bathroom
Utility Room
Unfinished Room / HVAC Closet
If it seems like a lot, it's because this was a large remodel. Yet, seeing where it started and what it looks like now is quite the transformation. In the end, this doesn't just add more living space but a quality of life. It is a place that fits their lifestyle where they can enjoy themselves with friends and family for years to come. Here is the breakdown of the process. If you want to see more pictures, visit the portfolio page to see them all.
Breakdown of Complete Basement Remodel
We get it; it's way sexier to see before and after pictures. Still, we think there is a lot of value in seeing what it takes to complete a basement remodel like this one. It isn't just as simple as some paint and new furniture. So, here is a breakdown of all the installation, demo, and building we did within specific areas.
Stairway/Understairs
This basement is accessible through the main floor. However, the stairway is not a straight shot down. It has a landing, curves down the right, and then dead-ends into a wall. You can turn right into the new Bourbon Room or turn left into the Family Room. While the stairs were already there, we did update them. We installed new flooring, painted the trim/walls/ceiling, added light, and changed the door coming into the basement.
There was also an 8×4 ft space below the stairs. For this, we installed flooring, outlets, lights, put in drywall trim, and added a door. This allowed them to have a storage space tucked away from the main living areas.
Bourbon Room
As stated above, if you turn right at the bottom of the stairs, you enter a 9×6 ft room. For this, we framed the exterior wall, added outlets, lights, drywall, trim, installed flooring, and painted. The Bourbon Room has a countertop with cabinetry underneath and shelving above. It's a great place tucked away from the main space that feels secret and intimate. Bonus, it can be closed off from little ones. If we had a choice, every basement would have a room like this.
Family Room
This is the main event. We demoed an existing wall and made it into a knee-high wall. The entire space is roughly 12×25 ft. We changed the entry door from the outside, drywalled, added electrical outlets for lighting, installed trim and faux beams. And like the rest, painted the ceiling trim and walls. The knee wall was a great way to give the TV/sitting area a more defined space. It also allowed for a desk area, a place for a bike, and room to play darts. Our favorite part is the countertop added to the knee-high wall. It is both functional and beautiful.
Wet Bar / Dining Area
In the same area next to the Family Room are the wet bar and dining area. This also included framing the exterior wall, drywall, trim, flooring, and painting. For the wet bar, we installed cabinets supplied by the homeowner, granite countertops, a sink, and a tile backsplash. The existing drain for the basement also had to be moved. Faux beams were also extended into this space. Finally, a drain was installed for an ice maker, along with outlets and lighting. Overall this mini kitchen is great for entertaining.
Bathroom
It wouldn't be fun if you had to keep running up the stairs to use the restroom. So we framed a 5×8 space for the bathroom, complete with a shower, toilet, and sink. This was no half bath. Moisture-resistant drywall and ceiling were installed, which is a must in bathrooms. There was also sound deadening installation put between this room and the utility room wall. The shower included an acrylic shower pan, Durock, tile, shower niche, light, hardware, and glass doors. The toilet was installed between the shower and vanity. A medicine cabinet/mirror, GFI outlet, and vanity light were also installed. We had to create a hard pipe vent to the exterior for the exhaust fan. And to finish this space: trim, paint, flooring (which is super cool), and door.
Playroom
We framed in a room approximately 13×4 ft with a closet that was 12ftx30in. Instead of a traditional door, we installed a couple of barn doors for entry into this room. This look was also duplicated for the closet. More deadening insulation was installed along with the usual walls, flooring, trim, painting, etc. We also had to move the shutoff for the outside spigot. This was put into the unfinished area. Outlets and lighting were installed as well.
Make Your Space What You Want
There was still more to this complete basement remodel, like the hallway, utility room, and HVAC closet. However, we think you get the picture. It was a large-scale project but one we love to do. There is nothing quite like seeing a space go from a storage area to a fully functioning entertaining space. You can do this inside or outside, and we can help. At 7th State Builders, we pride ourselves on paying attention to the details. It's not just enough to build a quality project – it also has to make sense for your lifestyle.
That is why we sit down with all our homeowners and listen. Seriously, that is our first step to every project, listening to you. Even if a homeowner is unsure of the finishes or how they want things laid out, talking to you helps us create the best space for you. Call us if you would like a no-obligation chat. Our experienced team will walk through what you are looking for and get an estimate for you. But don't wait! With how long it takes for materials and shipping, make sure you give yourself enough time for the project. Give us a call today!