Deck to Screened-In Patio Transformation in Maryland Home
We need to discuss something we often see with new home builds. When homeowners pick out options, there are add-ons, like decks, that you can choose. Don't. Many times those add-ons get overlooked. Often the add-ons are built with the cheapest materials and put together as quickly as possible. This is how we've come about this latest project: a deck to screened-in patio transformation.
The homeowner opted for a wooden deck, but the build quality was poor. If we had one piece of advice, don't have the home builder do it. Instead, have a third party come in and complete a deck or sunroom for you. For example, at 7th State Builders, we provide a lifetime warranty on the workmanship of our projects. We also chose many materials that come with manufactures warranties. All these are also transferrable to the next homeowner.
Why Not Just Build a New Deck?
While there are many reasons one might want to keep or build a deck, with rising wood costs, we see many people choosing paver patios. Of course, that isn't the only reason one might choose this option. Still, it's a great budget-friendly option. And as mentioned before, our Nicolock pavers have a lifetime warranty that can be transferred.
For this homeowner, she was unhappy with her existing deck. Mainly, the deck didn't have any protection from the elements. Also, as you can tell from the before photos, there were no trees to block the sun or other weather. Ultimately, a screened-in paver patio was the best solution for her home. In addition, the paver patio was more affordable and allowed for more space.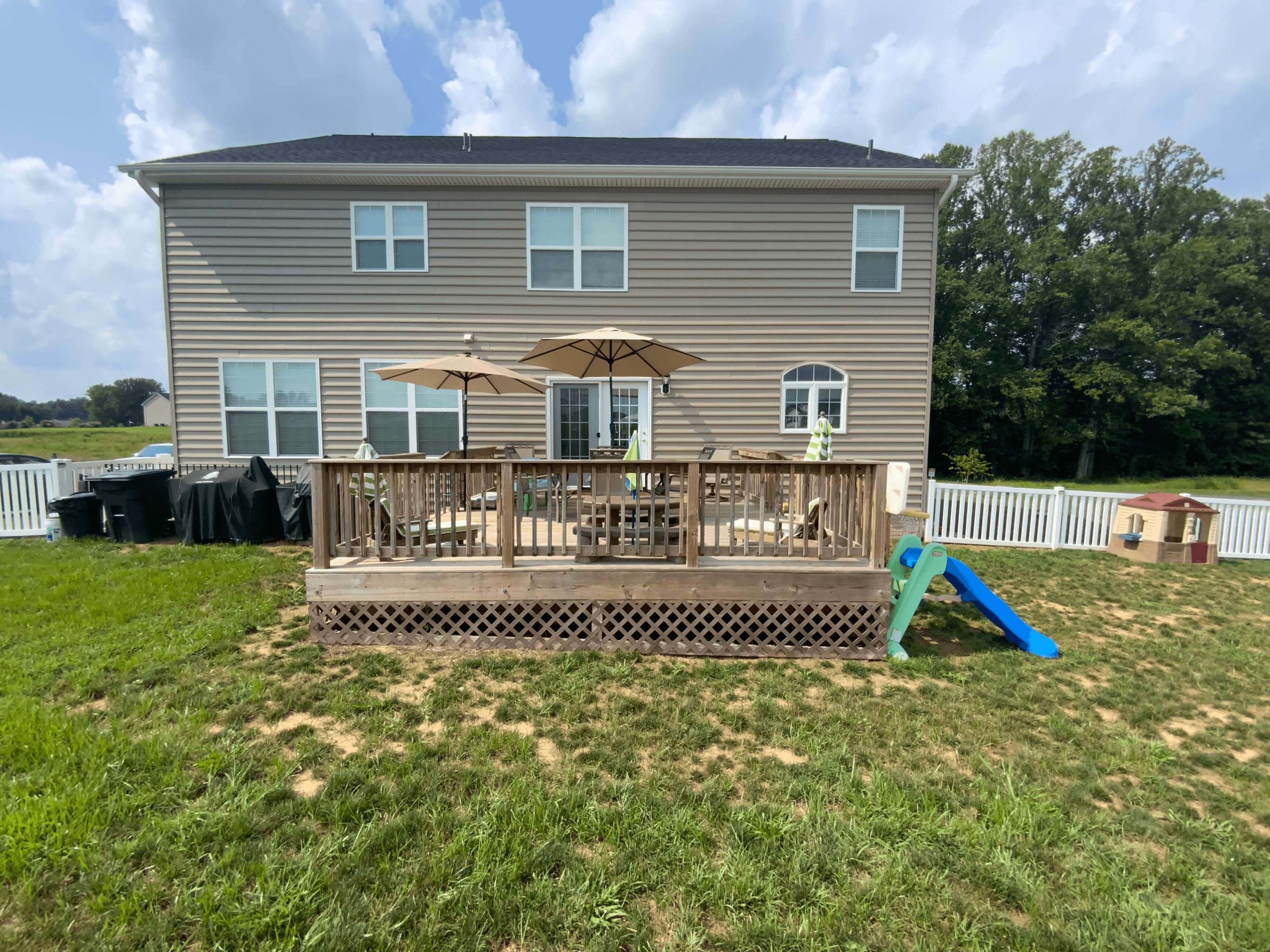 When it comes to covered or screened-in areas, we are conscious of the rooflines and how they work with existing windows, house structures, etc. Having a paver patio lower to the ground allowed for more space without conflicting with these elements. A deck would not have allowed for a roof. Another reason pavers are a plus is they stay cooler, especially during the summer months. In contrast, composite materials tend to get much hotter.
Breakdown of Deck to Screened-in Patio Transformation
As we usually do, here is a quick breakdown of the project process and materials used. First, we started with the deck demolition. The demo and removal included an existing 18×16 wood deck and two sets of wood stairs. Then began the screened-in patio installation.
For the installation, we built a 288 sq. foot paver patio using Nicolock, Alpine Ridge Contemporary Series, South Bay Blend, and Charcoal border pavers. A roof was also constructed with shingles to best match their existing roof. While we cannot always guarantee the same color, we try our very best to get as close as possible. The ceiling was made of white vinyl, has six recessed lights, and a ceiling fan provided by the customer.
The steps coming from the back door were created with a 3×7 landing and three steps using Fiberon Composite Decking, Good Life Series in a Bungalow color. This was finished with two glass doors, siding, gutters, and an electrical outlet. This completed phase 1 of this project.
This Isn't Finished Yet?!
Surprise! While it might look like a finished project, more is to come. This screened-in patio was phase one of two. The homeowner loves the look so much that they want to expand it. For phase 2, we will be adding a larger outside (non-screened-in portion) patio area. It will have a sitting area and fire pit. We will continue to use the same look to match the screened-in patio.
The homeowner is also adding a pool this summer. Once that is complete, we will also be using the same pavers around the pool area. Because of this, we can't start phase 2 until after the pool is installed. So, make sure to follow us on Facebook, and check back here for more updates! Also, check out the gallery for all the before and after images of this project.