Best Deck Materials for Long-Lasting and Gorgeous Outdoor Area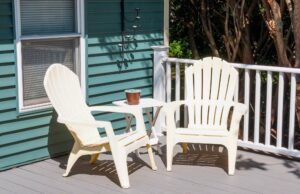 Relaxing outdoors is one of the best and easiest ways to recharge your batteries, soak up some vitamin D, and lift your mood. That's why many homeowners decide to build a deck or patio to complete their outdoor living space. But a gorgeous outdoor area doesn't just manifest itself out of thin air. It requires careful planning, collaboration, and expert craftsmanship to create a deck you're proud to show off. And it all starts with the deck materials you use.
If you're considering building a deck or patio for your home, it is essential to learn about the different deck materials you can use and how to choose the best deck materials for your outdoor area.
Best Deck Materials for Your Outdoor Area
Lumber and composite decking are the most popular choices when building a new deck. However, they each have their advantages and disadvantages.
Lumber Decking
Despite rising prices in recent years, lumber is still the most commonly used material for decks. However, the type of lumber you use will dictate how your deck looks, how much money you spend, and how long your deck lasts.
Cedar and redwood are two of the most popular choices if you want natural lumber. Both types of wood are resistant to moisture, insects, mildew, and rot and are easy to seal and stain.
Pressure-treated wood is made from cheaper quality wood that has been treated to be resistant to rot and insects. It is usually the most cost-effective lumber option, but it does need to be sealed regularly and carefully maintained. Regardless of which wood you use, you should always work with builders who use No. 1 clear lumber. Lumber is graded based on its durability, with one being the best. The term "clear" simply refers to the texture of the wood and the absence of any knots.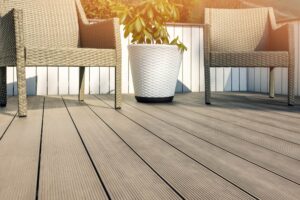 Composite Decking
Composite decking is made from a blend of different materials, usually recycled wood fibers and plastics. It can be made to resemble natural wood and comes in various colors and finishes.
It's important to note that composite decking tends to be more expensive than lumber per square foot. However, it requires less maintenance and can last two to three times longer than lumber since it is not vulnerable to moisture, insects, or mildew.
Fiberon is the top composite decking choice for many homeowners because of its impressive selection size, extended warranties, and superior quality. Not to mention, leading industry experts trust it.
Additional Materials
If you want to use the space under your deck as an additional outdoor living area, it's essential to waterproof the underside and set up the proper drainage routes. The best way to do this is with Trex RainEscape. Trex RainEscape makes it easy to divert water away from your below-deck living area and protects any furniture and fixtures from the elements.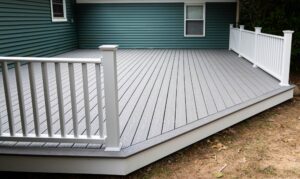 What about railings? No deck is complete without safety railings. Shoreline vinyl railings are most people's first choice because they are low-maintenance, easy to clean, durable, and affordable.
We Use Quality Materials for Every Project
When it comes to choosing the best deck materials for your outdoor area, keep a few simple tips in mind:
Consider your budget and stick to it
Think about what kind of maintenance you're willing to perform
Prioritize durability
When in doubt, you should enlist the help of a professional contractor. At 7th State Builders, we are happy to help you design the deck of your dreams. So give us a call today to discuss your needs and set up a consultation.