Stunning Maryland Patio with a Fire Pit You Have to See
7th State Builders took a trip south of D.C. to beautiful Accokeek, Maryland, to help this homeowner build a backyard oasis. They had ample space, but it was an empty canvas. Like so many of us staying home, they wanted a space to go outside and spend time. While they did have a pool, they needed something that was better suited for colder weather. This was also just the start. Read on to see the before and after of this stunning patio with a fire pit (if we do say so ourselves).
The Blank Canvas
Since the homeowners have been home more (like the rest of us), they got to thinking more about their property. A couple of months ago, they started running through ideas on how to optimize their yard. Of course, having a pool was nice for the summer months. However, with fall coming quickly (and now here), they wanted something more.
That is when they came up with using part of their backyard as a patio space. Not only would it be a patio, but it would have a fire pit, an outdoor kitchen area, and a place to grill. Overall, it was a dream that they wanted to complete in phases. Phase 1: Patio with a fire pit. That's where we came in!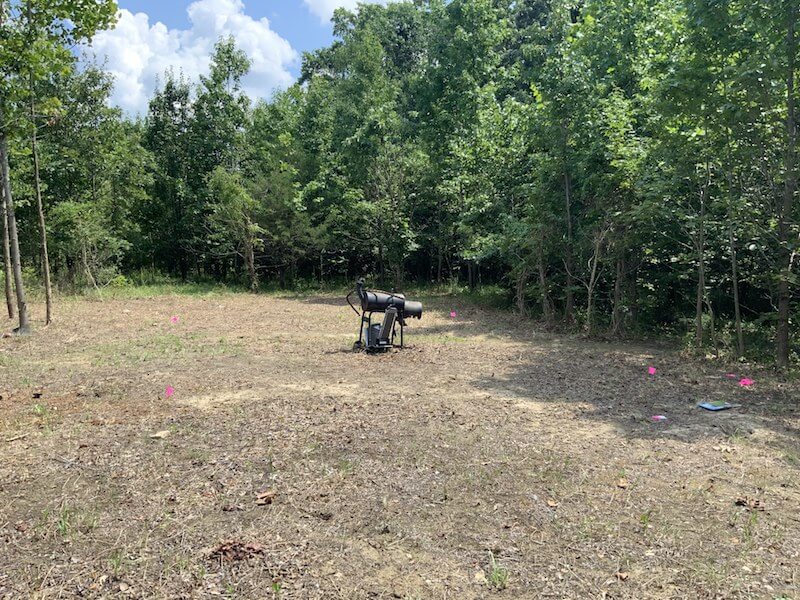 The First Phase
With our experience, we were happy to sit down and help design exactly what they were looking for. To start, we developed a plan for a 600+ sq. ft patio. This would include corner knee walls. This helped define the space and provided seating. At the far end, a built-in fire pit. We proposed having two different types of knee-high walls. The ones closer to the fire pit would be slightly rounded while the ones further away would be straight 90-degree angles. This was deliberately done to accommodate the next phases.


The walls/seating space would also include lighting. We set it up so all the lighting is on a timer or can be manually switched off. That way, no one is wasting energy. Also, for materials, we used a Nicolock patio paver in the color of Westchester.


The Results (So Far!)
As you can see, the before and after are completely in contrast. What was once a very blank area is now a stunning patio with a fire pit. Perfect for any Maryland backyard! Still, this isn't complete yet. This is just the beginning of making this homeowner's dream yard come true. If you are looking for more outdoor living space, give us a call. At 7th State Builders, we can do what you want or help you develop a plan that works for your lifestyle. For us, it's about quality materials and quality work at an affordable price. So, give us a call today!