Patio in Prince Frederick, Maryland in Steep Backyard
It might seem like 'tis the season for patios. That's because it is. 🙂 Honestly, it is the most requested build we have right now. And this patio in Prince Frederick is no different. The homeowner wanted an outdoor space to entertain and hang out with family. Like so many of our homeowners, we sit down, discuss materials and finishes and come up with an overall design. The hesitation this client had was over the incline in their backyard.
We get it. When you see a lot of Pinterest-worth pictures of patios (say that 5 times fast) – they are usually on flat land. You don't typically see how these work in a steep backyard. However, it's pretty common here in Maryland. Many neighborhoods can be hilly and nearly all backyards are different gradients. This isn't an issue though, and something we are used to seeing.
How to Deal With a Steep Backyard
The homeowner really wanted a patio with a fire pit. They weren't sure that was possible with the slope of their backyard. They also want to extend the area under their existing second-story screened-in porch. Here is the before images:
As you can tell from the pictures, we did a layout beforehand. Then, we started cutting into the land to place the patio and fire pit. While it was on a hill, it wasn't impossible. We also decided with the client that there should be stairs going down the lower portion and wooded area. Here is a work in progress look at the patio and stairs being built: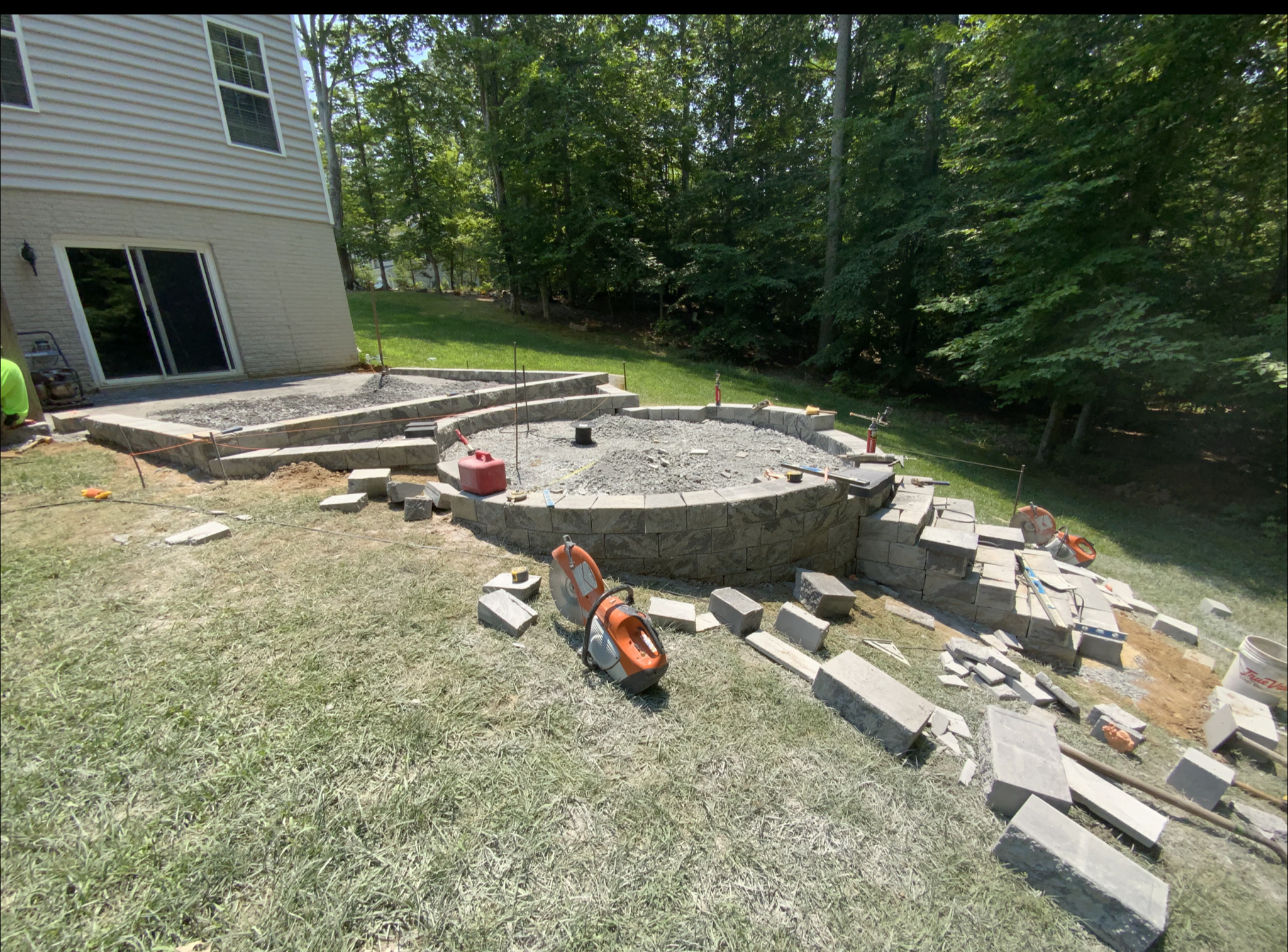 The Patio in Prince Frederick After Photos
The final results were exactly what the customer wanted. For this project, we built a 16×20 sq. ft. patio located in front of the basement-level slider door. Then we built a 12×12 sq. ft. circular patio with a firepit and circular knee wall on each side. This portion also included lighting under the knee wall.
In addition to this, we also had a 12×14 patio under the existing porch. The materials used were Nicolock Pavers, Alpine Contemporary, Smooth Finish, Granite City, and Coal Border. Here is the final results:
If you are interested, you can view even more photos of this patio in Prince Frederick on our portfolio page. Also, make sure to follow us on Facebook for even more ideas for your home.