Gorgeous Backyard Patio and Firepit in Fort Washington, Maryland
Every project we do, we start the same way. We sit down with our clients and discuss what they want, then we actually listen. It might seem silly to say but you'd be surprised how many people say other companies do not hear them. For us, this is the single most important part aside from flawless execution. This gorgeous backyard patio and firepit started the exact same way.
One of our amazing sales associates sat down with the homeowner of this Fort Washington home. They had an existing deck that had to go. It was on its last leg and not only didn't look great but posed safety issues. Since the deck was low to the ground, it built-up moisture. This can lead to the wood deteriorating faster than a typical deck. Since they wanted a place to last, we suggested doing a paver patio instead of potentially being back in this same situation again. They loved the idea.
Paver Patio vs. a Low Deck
Here is the thing, it isn't one that is better than the other. It's just about what you want to do, your budget, and the overall look you are going for. For this particular homeowner, they loved the idea of having a firepit. Many people are able to have small firepits on ground-level decks. However, there is always the chance of fire or burn marks on a wooden deck.
To make it easier on the client, we showed them both options. Therefore they could weigh the pros and cons themselves while considering the overall budget. This helped them decide to move forward with a patio instead of a deck. We love the results!
How We Built This Backyard Patio and Firepit
With blood, sweat, and tears! Just kidding. Lots of sweat though, because Maryland's humidity is crazy. We first started with the demo process. This included taking out the existing low-level 12×12 deck, three stairs, and existing landscaping. From there we started laying out the 18×31 paver patio with a 6×12 half-circle firepit.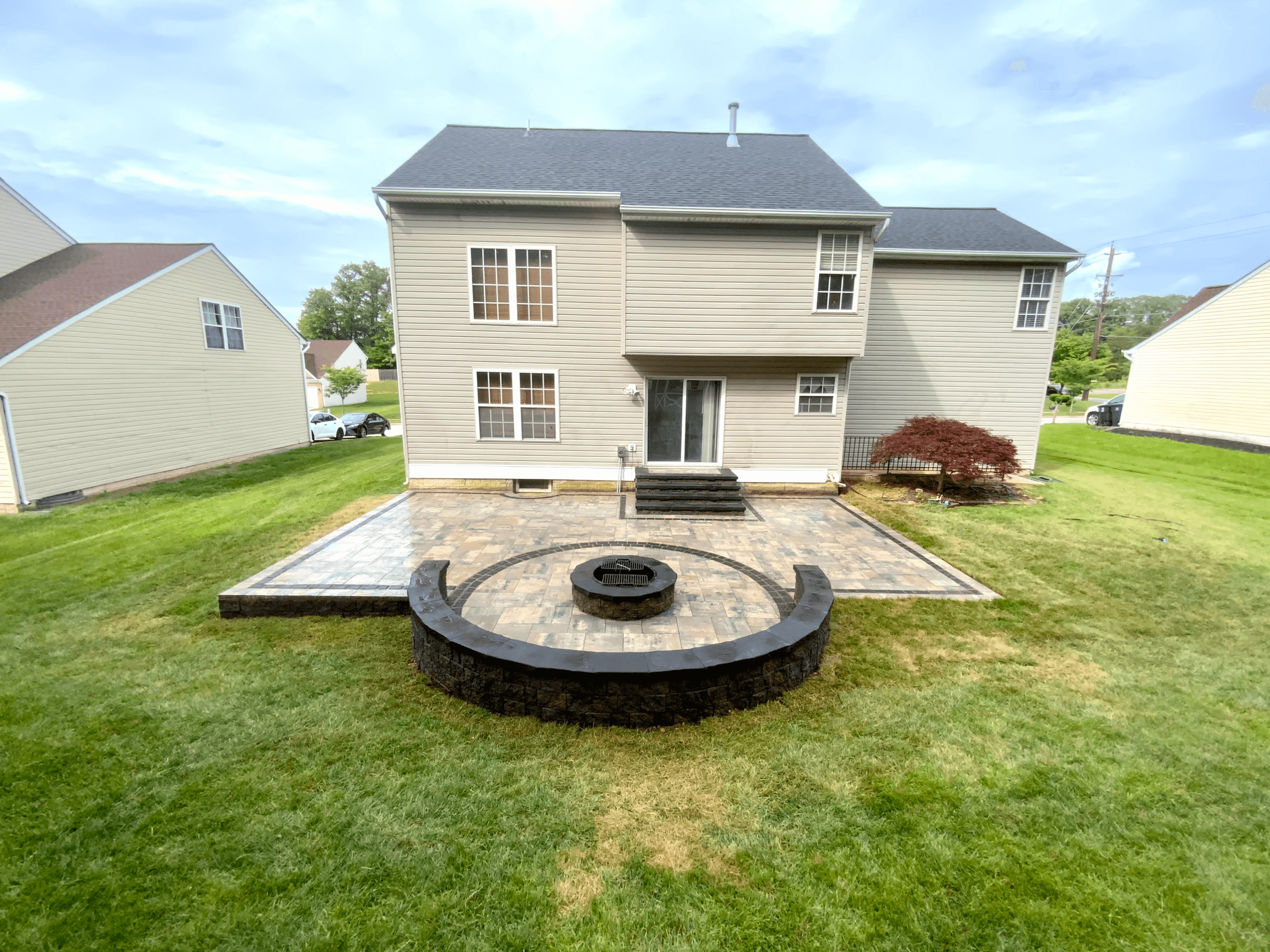 The stone the homeowner chose is a great contrast and worked well with the style of their home. It was a Cambridge Sherwood Ledgestone XL Driftwood Pavers with a single inlay border in Cambridge Coal. The firepit was done in a double layer to give it a more distinct space. We also included a knee-high wall/seating area that was completed with a Cambridge Crusader Ledgestone Coal Cap.
The final touch was to add stairs to match, these also have two lights on each side of steps (a total of 6 lights), with black aluminum railings (not shown). If you want to see more after photos, head on over to our portfolio section.