Screened-In Room vs. 3-4 Seasons Room vs. Sunroom: What are the Differences?
With summer just on the horizon, Marylanders are ready to be outside. But then again, maybe not. With humidity and bugs, summers can get rough. While it's nice to spend time in your yard, some of us might also want to enjoy the indoors. How about a bit of both? Adding a screened-in room, 3-4 season room, or a sunroom to your home may be the perfect solution. Though, how do you choose between the three? Aren't all indoor/outdoor living spaces the same? Here are all the answers you're going to need.
The Difference Between a Screened-In Room, 3-4 Season Room, and a Standard Sunroom
Having that little extra indoor/outdoor living space can make quite the difference in your overall comfort. Though, when you start exploring your options, you'll likely come across several variations of indoor/outdoor living spaces, including screened-in rooms, 3 or 4 season rooms, and sunrooms.
Screened-In Rooms
These indoor/outdoor living spaces are extremely popular among homeowners on a budget as they typically only require screening in the area. This would involve framing the desired area and putting up a good quality screening/mesh material to help keep outdoor critters where they belong, such as the 17-year cicadas that will be making their presence known this spring and summer!
Sunroom
A standard sunroom is the next most popular option because it involves the same process as a screened-in room. However, it has an extra layer of protection between you and the outside world. Instead of simply screening in the area, windows are often installed to allow you to enjoy the indoor/outdoor space even if it rains a bit.
3-4 Season Rooms
These are among the most advanced options for those looking to create an indoor/outdoor living space. It involves weatherproofing the space enough to be enjoyed throughout the seasons. This may mean installing a small heating or a/c unit so you can enjoy the room despite the weather outside.
What are The Benefits of these Indoor/Outdoor Living Spaces?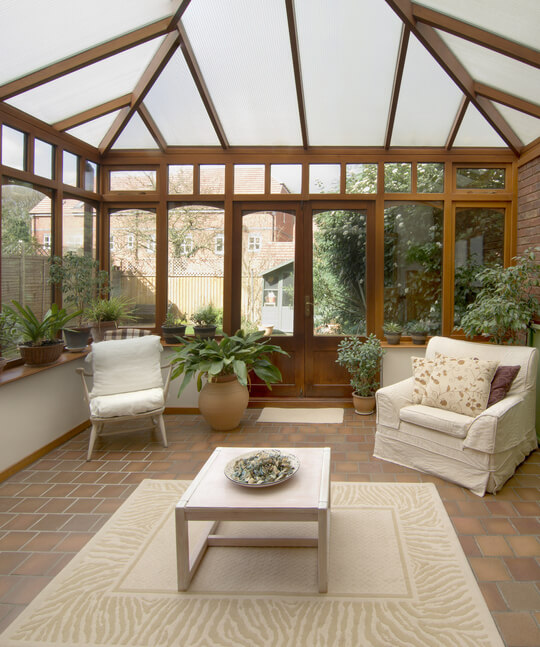 The most significant benefit of these indoor/outdoor living spaces is that homeowners can enjoy their environment without having to worry about factors such as:
Bugs
Wild animals
Neighbor's animals
Minor weather changes
These spaces allow you to get outside without leaving home, yet you can still enjoy the sun, breeze, and the surrounding sounds that drew you to the neighborhood.
Can You Convert Your Porch or Deck into an Indoor/Outdoor Living Space?
In most cases, yes – you can easily convert your porch or deck into one of the three listed indoor-outdoor living spaces. If you're looking to simply build a screened-in room or sunroom, then your porch or deck may be the perfect location. However, if you are leaning more toward a 3 or 4 season room, then you'll need to do a little extra research. You should also make sure the contractor you work with checks off all necessary boxes to include any electrical elements that you may need.
Get the Indoor/Outdoor Living Space of Your Dreams with 7th State Builders
Building an indoor/outdoor living space may seem like a simple DIY project for most homeowners. However, it's always best to consult with a professional before you begin a project. Thinking of adding an indoor/outdoor living space to your home? Then contact the team at 7th State Builders today!