Beautiful Poolside Pavilion in Gambrills, Maryland With Kitchen
Having a pool in Maryland is a must. Especially during summer months when it feels like you could melt away. However, having a beautiful poolside pavilion takes lounging by the pool to the next level. Just like these homeowners in Gambrills, Maryland, did. Fit with a kitchen, entertainment setup, and outdoor seating, this is truly enjoying the outdoors. If you are interested in the build, read on. If you want more pictures of the project, visit our gallery page.
Building of the Poolside Pavilion
We do quite a bit of pavilion builds. Some stand-alone, others part of a paver patio. This project, in particular, was constructed as an extension off the concrete surrounding the pool. It started with the paver patio, approximately 20×20 equalling 400 sq. ft. The pavers were Cambridge Sherwood Ledgestone. The primary color is sandstone, and the border is mocha.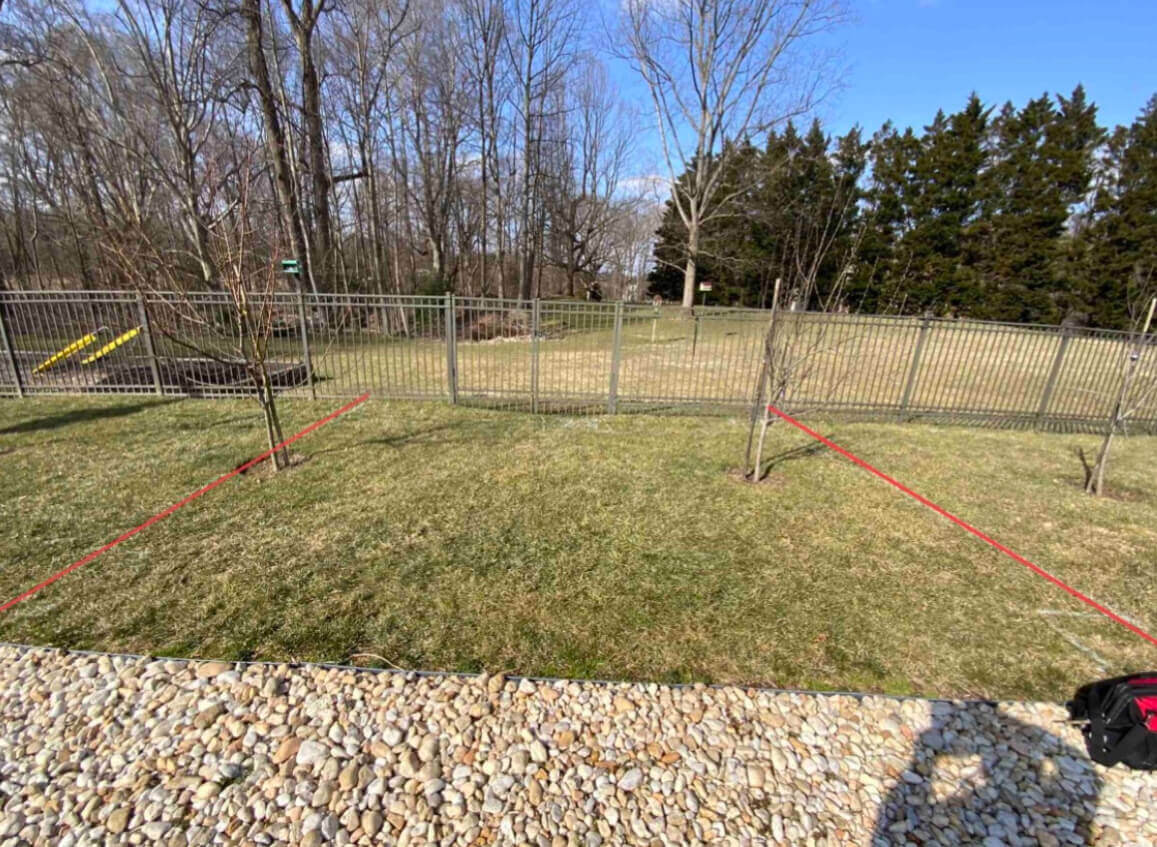 To start the project, we had to relocate a few small trees. Once the paver pad was down, we began on the pavilion structure. The building process included the following:
+ Gable Roof with Cathedral Ceilings
+ GAF Timbertex Charcoal Shingles
+ GAF Cobra Ridge Vent
+ High-Performance White Cellular PVC Trim Board
+ 20-foot Kitchen with Backsplash
+ Decorative Arches on Corners of Beams
+ White PVC Crown Molding
+ Four 8×8 Cedar Columns & Glulam Beams
+ Gutters, Downspouts, Facia, and Soffit
In addition, we ran approximately 282 ft of electrical for the outlets, switches, LED candle lights, and GFCI breakers. We also installed all water lines. The customer provided the speakers, tv, kitchen sink, appliances, and ceiling fan. 7th State took care of the installation of all these items.
Attention to Details
Having a list of items doesn't show the bigger picture. For example, we matched the roofing color of the pavilion to the house. Also, how we got a close match of the siding to the house. The cedar in the ceiling was left a natural, unstained look. The granite countertops were Azul Celeste and used in the kitchen, tops of the posts, and their coffee table. Simple things like this make a cohesive design that looks like it always was there.
Let Us Help You With Your Next Project
At 7th State Builders, we do architectural drawings and submit the proper permits on your behalf. But this isn't before we sit down with you to ensure it is exactly what you want. Homeowners often aren't exactly sure; that is where our team shines. We develop designs and suggestions to fit your home's style and the needed function. Contact us today to learn more.