OUR SERVICES
KITCHEN AND BATH REMODELING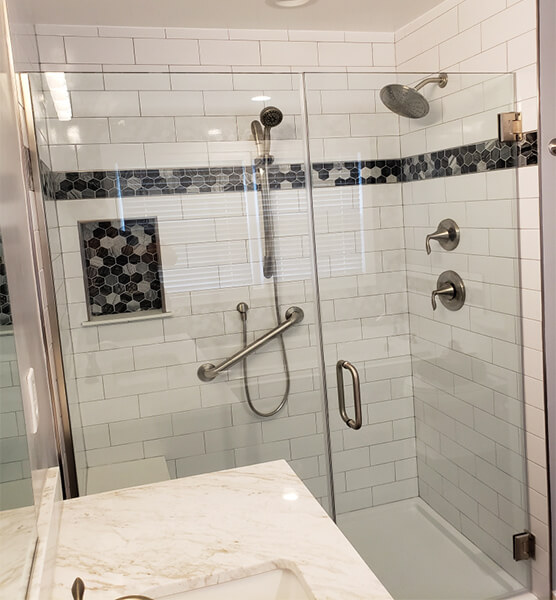 A kitchen and bath remodeling project is a great idea if you are looking for a way to bring added value to your home. Your kitchen is the core of your home. Food, warmth, and health all spring out of it. If your kitchen is outdated, you won't feel inspired to create healthy meals with family and friends.
Likewise, your bathroom is an essential aspect of the home. It is a private, intimate place where you can relax after a busy day. When your bathroom is uncomfortable and unmaintained, you lose the pleasure of an aromatic bubble bath or hot shower for stress relief.
At 7th State Builders, we specialize in crafting kitchens and bathrooms that bring you inspiration, beauty, and comfort.
6 Benefits of Kitchen and Bath Remodeling
Not sure if having a kitchen and bath remodeling is a good idea? Here are some reasons to consider it.
1. Customization
What good is a high-tech, stylized kitchen or bathroom if it doesn't fit who you are? This is what makes customization so important. For example, if you entertain guests more than once a week, you can add more space to your kitchen. If you love aromatherapy baths, you can get a luxurious tub installed in your master bathroom.
2. Better Health
A newly remodeled kitchen encourages you to spend more time in it. Your new appliances, updated LED lighting, and beautiful countertops will make it exciting to experiment with delicious and healthy dishes. In fact, according to the Dave Ramsey blog, 41% of homeowners say they cook at home more after a remodeling project. And 33% say they now enjoy a healthier lifestyle.
3. Convenience
With a kitchen and bath remodeling project, you can say good-bye to bulky appliances that get in your way. This is because floor to ceiling cabinets can be added to keep appliances out of your sight, but just within reach.
4. Energy Savings
Maryland is well-known for wet winters and humid summers. To save energy, you need windows and doors made specifically to fit the climate. With the right remodeling project, you can lower your energy expenses by equipping both your kitchen and bathroom with windows and doors that prevent the weather from getting into your home.
5. Comfort & Beauty
A cramped kitchen is uncomfortable. So is having only one bathroom for the whole family to share. With a renovation, your home can be completely modified with more space, an extra bathroom, and more. According to ABC News, our surroundings influence our feelings and actions. This means that being in an attractive, modern, comfortable kitchen or bathroom will lift your mood after a long, stressful day.
6. Value
Your home is a nest egg. Investing in it will give you a satisfying return on investment. For instance, you might decide to sell your house. Prospective buyers will pay more for an updated kitchen and bathroom. Even if you aren't going to sell anytime soon, the sense of pride you get from a stylish home is certainly
more than worthwhile.
7th State Builders in Your Remodeling Contractor
At 7th State Builders, we make sure to keep all these benefits in mind as we approach your kitchen and bath remodeling project. We can also help you select the best materials that specifically match the design you choose for your home. Contact us today for a free, no-obligation estimate.